ShopRite Helping to Rebuild Church, Food Pantry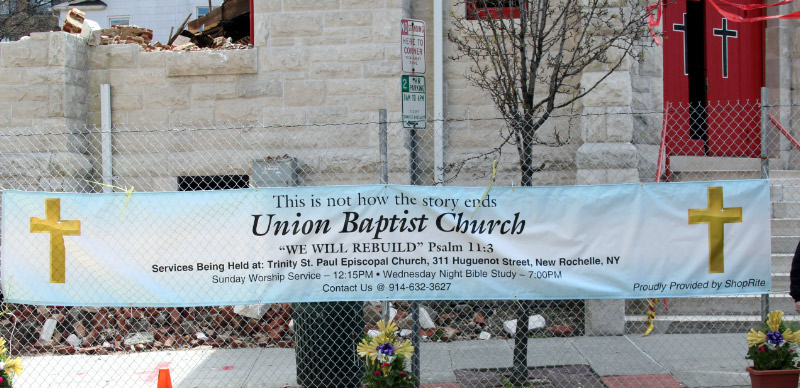 ShopRite stores in New York's Westchester, Orange, Ulster, Sullivan, Columbia, Dutchess, Putnam, Middlesex, Sussex and Union counties and members of Union Baptist Church have launched a series of fundraising initiatives to assist in the rebuilding of the 100-year old Union Baptist Church in New Rochelle, which was destroyed by fire this past Valentine's Day.
Funds raised will benefit the rebuilding of the church and the ongoing operation of its Manna Ministry food-distribution program, which helped 2,500 families, handed out more than 6,000 bags of food and served 3,000 hot meals every Friday in 2010.
"The church and its Manna Ministry food distribution program are vital to the New Rochelle area," noted Tom Urtz, vice president of human resources and consumer affairs for ShopRite, the banner operated by members of Keasbey, N.J.-based retail cooperative Wakefern Food Corp. "We feel it is important to give back to a local organization that has given so much to its community"
Established in 1913, Union Baptist Church is one of New Rochelle's oldest African-American religious organizations. The church currently has more 250 local parishioners, as well as worshipers who commute regularly from as far as New York City and Fairfield, Putnam and Rockland counties.
Since the fire, ShopRite, a longtime supporter of the Manna Ministry, has donated $3,000 to help keep the food pantry going. Additionally, the banner's Bedford Hills, White Plains and New Rochelle at Joyce Road locations are running a checkout donation drive through April 23 to collect nonperishable items for the food distribution program.
Among additional upcoming fundraising efforts for the church and food pantry are a "Resurrecting the Church" Union Baptist Church Benefit Concert featuring gospel music at the Westchester County Center in White Plains, N.Y., on April 23; another benefit concert, also featuring gospel music, at the Bethesda Baptist Church in New Rochelle on April 30; and the "Taking Steps to Rebuild" 5 K Walk-a-Thon, starting at Wildcliff Manor in New Rochelle on June 5, and including an outdoor barbecue and refreshments.
Those interested in donating can visit http://ubcnr.org.