ShopRite App Offers Fast Checkout
ShopRite's new Mobile Scan app, now being piloted in eight New Jersey and Connecticut locations, enables shoppers to check out their groceries right in the aisles.
The convenient app also informs customers of sales in the aisles in which they're shopping and automatically deducts Price Plus Club card savings as each item is scanned. Once they're finished shopping, customers can sync their mobile devices to designated self-service pay stations.
Shopping by Smartphone
"Our customers can now enjoy the ease of shopping -- and checking out -- right on their smartphones, with the added convenience of product recommendations," said Cheryl Williams, ShopRite VP of digital commerce and innovation. "Using their own phones, they can take advantage of ShopRite's traditional low prices and speed through checkout,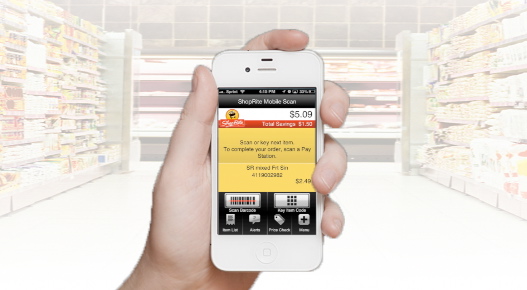 making for a quick and easy trip to the supermarket."
Customers who want to road-test the app can visit the courtesy desk at ShopRite stores in Parsippany, Garwood, Marlton, Stanhope, East Brunswick and Flemington, N.J., and Canton and Enfield, Conn.
ShopRite is the registered trademark of Wakefern Food Corp., a Keasbey, N.J.-based retailer-owned cooperative. With more than 250 ShopRite supermarkets throughout New Jersey, New York, Pennsylvania, Connecticut, Delaware and Maryland, ShopRite serves more than 6 million customers each week.