10/03/2018
Sedano's to Introduce 'Robotic Supermarket'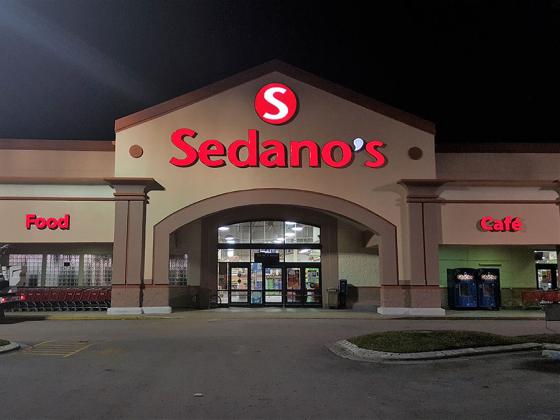 Hispanic grocer Sedano's Supermarket has joined forces with e-grocery solution Takeoff Technologies to launch next month what the companies say is the inaugural automated hyperlocal fulfillment center anywhere, or "the world's first robotic supermarket."
The cutting-edge technology will allow customer orders to be placed via online app and carried out by Takeoff's automated micro-fulfillment center, with the support of Sedano's associates. Artificial intelligence (AI)-enabled robots will put together full supermarket orders of as many as 60 items in just a few minutes – a fraction of the speed and cost of current manual picking options.
"Grocers have been dipping their toes in e-groceries for years," said Jose Vicente Aguerrevere, co-founder and CEO of Waltham, Mass.-based Takeoff. "Now it's time to jump in with both feet. Our automated, hyperlocal micro-fulfillment center enables grocers to thrive in e-grocery."
The center will service 14 Sedano's stores in the grocer's hometown of Miami and offer consumers pickup services.
"We are excited to partner with Takeoff at the forefront of this groundbreaking robotics solution," noted Javier Herran, chief marketing officer for Sedano's. "This model gives us the ability to leap into the e-grocery industry, develop a new level of employment opportunities, and continue meeting the needs of our valued consumers by offering an affordable and convenient online service."
Takeoff's aim is to develop hyperlocal fulfillment centers in one-eighth the footprint of a average supermarket, using innovative robotics and compact vertical spaces. The company is currently collaborating with five U.S. regional and national retail chains and has several sites in the pipeline to roll out in next year. Ultimately, Takeoff plans to build such centers across the United States, in both urban and suburban areas.
"Sedano's is a great partner for kicking off our solution, and we couldn't be more thrilled to work alongside them in providing a turnkey e-grocery solution," said Takeoff co-founder and President Max Pedro. "We're robotizing the supermarket – which has never been done before. This is the first of many deployments we are working on, and shoppers will soon see more local grocery stores with micro-fulfillment centers."
In other Takeoff news, James McCann, the former CEO of Ahold USA, is joining the company as a member of its advisory board and as an investor. Additionally, Takeoff has closed its Series B financing led by Forrestal Capital, taking the total capital raised to $46 million.
In a recent article, Progressive Grocer Editorial Director Jim Duclicek noted AI as a key component of the "Store of the Future."
The largest independently owned Hispanic supermarket chain in the United States, Sedano's employs more than 3,000 employees at 34 locations in Florida's Miami-Dade, Broward, Palm Beach, Orange and Osceola counties.