01/17/2012
Save Mart Names Store Manager of the Year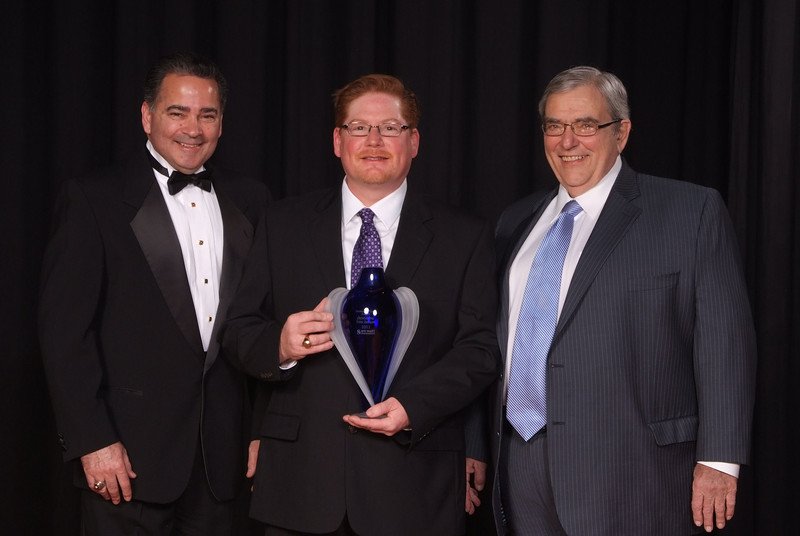 Save Mart Supermarkets presented the company's 2011 Nicholas J. Tocco Store Manager of the Year Award to Mike Cook, who helms a Lucky location in Oakley, Calif. During Save Mart's annual management appreciation gala on Saturday, Jan. 14, all 10 nominees for the award were honored.
"The coastal banner is very proud of the Store Manager of the Year, Mike Cook, who has done a great job of improving his store's performance while giving great customer service and remaining active in the community," said Woody Hunter, VP of the coastal division at Modesto, Calif.-based Save Mart, which operates 233 stores throughout northern California and northern Nevada under the Save Mart, S-Mart Foods, Lucky, Maxx Value Foods, and FoodMaxx banners.
A former assistant manager of finance at a bank, Cook began his grocery career at a Lucky store in 1988. He presided over the successful transition of the store from an Albertsons location back to Lucky after its 2007 acquisition by Save Mart. The store's bakery and meat counter are outstanding, and the produce has been voted best in town. Cook is involved in the local community, where he also lives, and has consistently offered shoppers value through quality merchandise and exceptional service.
As a first-time nominee for the award, Cook described his reaction at his win as "shocked" but very pleased and honored. He readily gave credit to his whole store team for their hard work and attention to customer needs.
First and second runners-up, respectively, for the Tocco Award were Ann Bradford, who runs a Lucky store on Mountain Boulevard in Oakland, Calif., and Dan Kohnen, who manages a Save Mart, also in Oakland.
The other nominees were Tara Alvarez, FoodMaxx on North Broadway in Santa Maria, Calif.; David Gonzales, Save Mart on North Milburn in Fresno, Calif.; Randy Sentachi, Lucky on Sloat Blvd. in San Francisco; Luke Houston, Save Mart in Riverbank, Calif.; Rich Alstad, Save Mart at Standiford and Prescott in Modesto; John Romine, Save Mart in Jackson, Calif.; and Justin Schumann; FoodMaxx in Oroville, Calif.
Presented by Save Mart owner and Chairman Bob Piccinini, the Store Manager of the Year award, was created in honor of the late Nicholas J. Tocco, co-founder of the company. Nominees must meet Save Mart's standards for store performance, customer service and community involvement. The winner receives an etched blown-glass vase, a travel certificate and cash. Runners-up get a cash award, and all nominees are presented with a framed certificate.