RIP: George McKay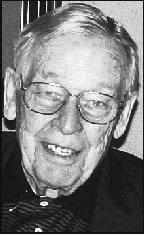 George William McKay Sr., a grocery industry veteran who served as CEO of Supervalu in the 1970s, died Wednesday at his home in Fort Wayne, Ind., at age 96.
After returning home from service in World War II to Fort Wayne, McKay became executive VP of wholesale grocers G.E. Bursley & Co., which merged with Bluffton Grocery Co. in 1957 to become Food Marketing Corp.
When Supervalu acquired Food Marketing in 1963, McKay moved to Supervalu's headquarters city of Minneapolis to become executive VP of the new parent company, ascending to president and CEO in 1970. He served as vice chairman of the board from 1973 to 1979.
A Second Career
After his retirement from Supervalu, McKay and his wife moved back to Fort Wayne. In 1980, McKay and Don Murphy opened the first Cub Foods market in Indianapolis, a venture that eventually led to the opening of two more Cub stores in Indianapolis and two in Toledo, Ohio, as well as two County Markets in Terre Haute and seven Save-A-Lot grocery stores.
In addition to his six decades in the grocery business, McKay served on the board of directors for 20 years of the National American Wholesale Grocery Association, including two terms as its chairman and president. He was also active in SCORE, an organization of retired businessmen, who help others looking to start businesses. McKay was elected to Fort Wayne's Business Hall of Fame in 1988. In 2013, he was honored by the United Way of Allen County for 75 years of giving to the organization.
McKay was preceded in death by his first wife, Barbara, and his second wife, Nancy. He is survived by three sons, two stepdaughters, 12 grandchildren and 13 great-grandchildren. A memorial service is scheduled for Saturday in Fort Wayne.