Randy Edeker to Lead Hy-Vee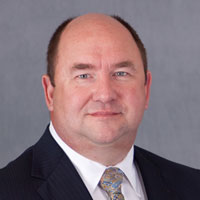 For only the fourth time in the company's 82-year history Hy-Vee Inc. has a new chairman and CEO.
Hy-Vee's board of directors elected Randy Edeker, 49, to succeed Ric Jurgens, whose retirement on June 1 caps a 43-year career with the Iowa-based supermarket chain. Edeker (pictured at left) most recently served as president and COO, and will now hold the offices of chairman, CEO and president.
"I have been truly blessed to be allowed to assume this role, leading the most incredible group of dedicated, hard-working people," Edeker said. "I am both honored and humbled to follow in the footsteps of Hy-Vee's great leaders, including the man who has caringly mentored me for the past eight years, Ric Jurgens. "We will remain diligent in upholding the core values our founders set forth for us and delivering great service, great value and a helpful smile."
Jurgens, who has been Hy-Vee CEO since 2003 and chairman since 2006, shared his retirement plans with Hy-Vee stockholders at the company's annual meeting in December of last year. At that time, he announced his intention to nominate Edeker as his successor.
"It has been my privilege to serve Hy-Vee and our customers for over 43 years," Jurgens said. "I'm eternally grateful for the support and guidance given to me by our employees throughout our eight-state area. Since I've given my entire working life to Hy-Vee, the future of our company is very important to me. I retire with great confidence knowing that we have a strong, talented leader in Randy Edeker, and knowing he is surrounded by an outstanding team of executives at every level who will make Hy-Vee even better in the years to come."
Edeker, a 30-year veteran of Hy-Vee, has held positions at every level of the company during his career. He joined Hy-Vee as a part-time employee at the Chariton store and quickly moved up through the ranks, working at retail stores in four states before getting his first store director assignment at Columbus, Neb., in 1993. After just a year at the helm there, he was selected by his peers for induction to the Hy-Vee Hall of Fame as Store Manager of the Year, the first of his three Hall of Fame awards.
In 1995, Edeker was promoted to Hy-Vee's corporate staff, serving as a director of operations overseeing stores in two  geographic regions. In 2004, he was elected VP of marketing; he moved up to senior VP of retail operations in 2006, and in 2008 he became executive vice president and COO. Stockholders elected Edeker to succeed Jurgens as president of Hy-Vee in 2009.
Edeker is a well-known figure in industry circles, having served on several national boards and advisory councils and as co-chair of the associate member board for the Food Marketing Institute, the industry's largest trade group. He also has been active in community affairs, including serving on the board of directors of Character Counts in Iowa.
With his election as chairman and CEO, Edeker becomes only the fourth company officer to hold those titles since Hy-Vee's founding in 1930. The late Dwight Vredenburg (son of company co-founder David Vredenburg) was Hy-Vee's top officer from the time of the company's incorporation in 1938 until his retirement in 1989. Vredenburg was succeeded by Ron Pearson, who served as chairman until his retirement in 2006, when Jurgens was elected to the position.
A native Iowan and graduate of English Valleys High School, Edeker and his wife, Dawn, are the parents of two grown daughters and have two grandchildren.