Publix, PFK Give Salad Bar to Miami School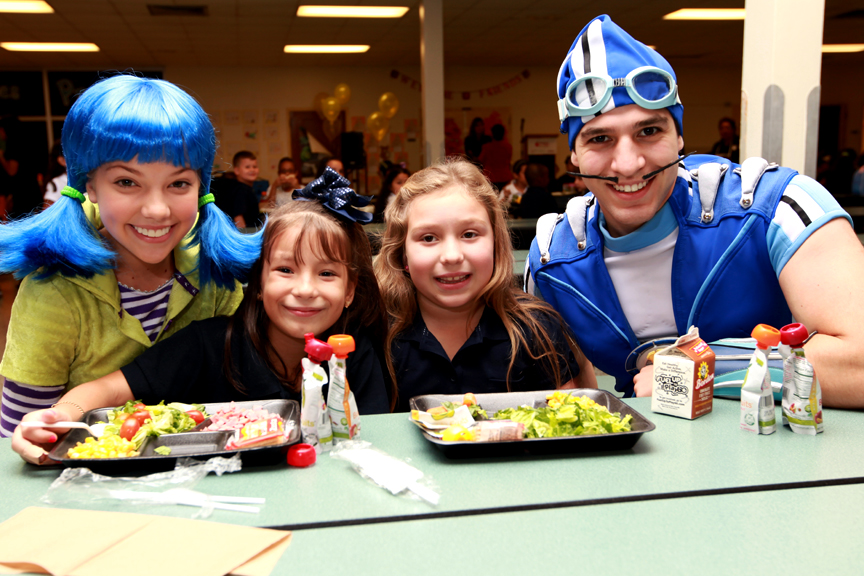 Publix Super Markets and Produce for Kids (PFK) has donated a salad bar to the Sunset Park Elementary School in Miami, with funds raised from the joint fall 2011 "Healthy Schools, Healthy Minds" campaign, which benefited the "Let's Move Salad Bars to Schools" initiative. The Sunset Park Elementary salad bar is one of 39 given to Southeast schools with Healthy Schools, Healthy Minds funds.
Students, teachers and Florida state officials celebrated the salad bar's opening at an Oct. 16 event, which was also attended by United Fresh Produce Association CEO Tom Stenzel, PFK President John Shuman, and Publix Media & Community Relations Manager Kimberly Reynolds. Additionally, Sportacus and Bean (left), characters from the Sprout television show "LazyTown," which promotes healthy lifestyles, were on hand to sign autographs and pose for pictures.
Supporting First Lady Michelle Obama's broader "Let's Move" effort to end childhood obesity in a generation, Let's Move Salad Bars to Schools was developed to raise awareness nationwide that salad bars in schools can boost kids' access to, and consumption of, fresh fruits and vegetables. Mrs. Obama introduced the first salad bar under the program in November 2010 at Miami's Riverside Elementary School. To date, salad bars have rolled out to more than 1,600 schools in 45 states and Washington, D.C.
"Through the Let's Move Salad Bars to Schools initiative, schools like Sunset Park Elementary are able to offer healthier choices for their students at lunchtime," said Shuman. "Putting fresh fruits and vegetables in front of children offers them the ability to make proper decisions and helps them to build lifelong healthy habits." Since its creation in 2002 by Shuman Produce Inc., Orlando, Fla.-based PFK has raised more than $4.1 million to help kids.
As part of the Healthy Schools, Healthy Minds campaign, PFK and Publix, along with 10 fresh produce suppliers, among them Crunch Pak, Del Monte Foods, Del Monte Fresh Produce, Mastronardi Produce, Paramount Farms, Shuman Produce and Ventura Foods, were able to raise more than $115,000 to support salad bars for schools in the Lakeland Fla.-based grocer's 1,051-store market area of Florida, Georgia, Alabama and Tennessee. "Having these salad bars allow children to make healthier decisions at lunch and have fun at the same time," noted Reynolds.
Over the past two years, Washington-based United Fresh, a founding partner of Let's Move Salad Bars to Schools, along with the National Fruit and Vegetable Alliance, Food Family Farming Foundation, and Whole Foods Market, has worked to rally the produce industry to address the issue of children's nutrition, which is particularly urgent in the region in which Publix operates. As Stenzel observes, "Childhood obesity is a problem nationwide, but the Southeast has higher rates than the national average."