The Pub at Wegmans Introducing New Menu
The Pub at Wegmans, the grocer's in-store restaurant in King of Prussia, Pa., will debut on Jan. 27 an updated menu of fresh salads, sandwiches, composed entrées, and beer, wine and cocktail selections. Also among the new offerings is the eatery's most recent collaboration with local brewery Sly Fox, a German-style malt beer served exclusively at The Pub.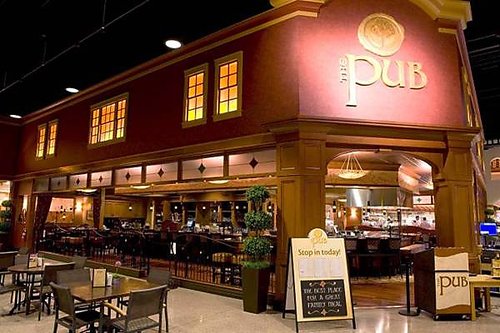 "From the start, we've created The Pub as a friendly, welcoming place that our guests feel a strong connection with – so when they asked us for more local craft beers, chef-inspired entrées, greater variety of appetizers and more salads and sandwiches, we listened!" noted Kathy Haines, director of Wegmans in-store restaurants and Market Cafés. "As always, all of our dishes are prepared with fresh ingredients from the adjacent market, and these new menu adjustments make The Pub better than ever – a place where guests can enjoy a top-notch burger and local craft beer, close to home, any night of the week."
Enticing Improvements
Among the menu's new dishes are Yuengling Beer-Steamed PEI Mussels with shallot-thyme butter and warm baguette; Cajun Kettle Salad with Bronzed Chicken, with romaine, tomatoes, pepper jack cheese, cornbread croutons and Creole mustard vinaigrette; a Scallop Salad of spring mix greens, sliced pears, sweet pickled red onion, dried cranberries, shaved carrots, pine nut granola and cranberry-orange dressing; and a Pub Cheese Burger -- 8 ounces of beef grilled to order and served with Adams Reserve cheddar, Wegmans thousand island dressing, leaf lettuce and vine-ripened tomato. Entrees now come with complementary sides, and many dishes feature sauces that are also for sale in the store.
The new exclusive local beer offering, Sly Fox Sly Ride, is a German-style malt beer brewed with four kinds of hops (Vienna, Pils, Wheat and Caramunich) for a smooth, warming winter brew. The Pub has expanded its already long list of local craft beers and added an assortment of wines by the glass, along with a rotating seasonal cocktail list.
Further, the restaurant now accepts reservations over Open Table, and aesthetic improvements to the establishment include curtains for privacy and more comfortable low tables.
Located within the King of Prussia store's Market Café prepared food section, The Pub at Wegmans is open for lunch and dinner.
Rochester, N.Y.-based Wegmans Food Markets Inc. operates 83 supermarkets in New York, Pennsylvania, New Jersey, Virginia, Maryland and Massachusetts.