Price Chopper Launches Deli Fan Pack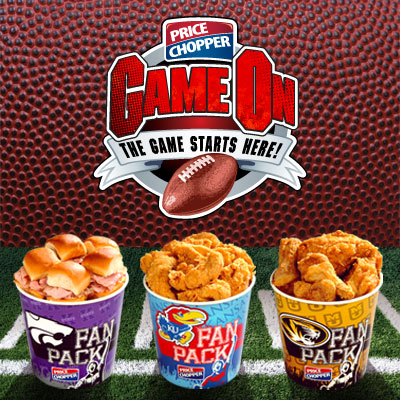 For the third year in a row, Kansas City-area grocery chain Price Chopper has partnered with three regional Big 12 universities – Kansas State University, University of Kansas and the University of Missouri-Columbia – for its Game On campaign.
This unique partnership provides Price Chopper the rights to utilize all three universities' logos and mascots in advertising, in-store signage and, new this year, on a new deli SKU that lets fans combine their favorite team with their favorite tailgating food.
Price Chopper launched its new Game On Fan Packs earlier this month, with team-themed buckets that retail for $15. All 49 Price Chopper stores will sell them in the deli department and will fill them with the customer's choice from the following selections: 10 pieces of fried chicken, 3 pounds of chicken tenders, three dozen kettle-fried chicken wings, 3 pounds of boneless wings, 100 chicken nuggets or 12 party sandwiches.
"In Kansas City, we believe our three regional Big 12 teams have more fans and generate more excitement than our city's professional football team does," said Casie Broker, Price Chopper's director of marketing. "These new Game On Fan Packs are the latest offering in our 32 years of being the official supermarket for tailgating in Kansas City."
Price Chopper is supporting its Big 12 football tie-in with in-store spirit rallies showcasing Big 12 mascots and cheerleaders; weekly specials on tailgating and watch party foods and beverages; TV, radio, print and digital media utilizing the Big 12 mascots; Facebook contest that gives away tickets to every K-State, KU and MU home game; and an employee challenge that incentivizes stores based on the number of Game On Fan Packs they sell.
For more information about Game On, visit www.mypricechopper.com.