PMA Fresh Summit: Food Safety a Top Priority for Produce
Get great content like this right in your inbox.
Subscribe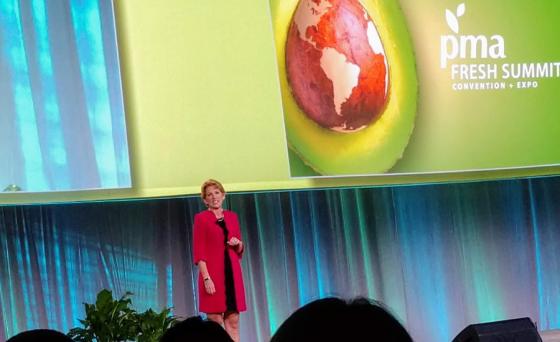 The Produce Marketing Association (PMA) is finalizing a turn-key food safety certification program that will be unveiled in the coming months.
That was the announcement by Cathy Burns, CEO of the Newark, Del.-based trade group at PMA Fresh Summit, its annual expo being held this week in Orlando, Fla.
Reflecting on recent recalls in the produce industry, Burns called for a proactive approach on food safety.
"Consumers are questioning their confidence in us," she said during her state of the industry address that opened the conference Thursday. "Food safety must be the cornerstone of an organization's values, character and culture. Food safety is a reflection of your core values … we must embrace a follow-the-science philosophy."
Burns pointed to technological advancements in the produce arena supported by investments in agrifood technology topping $10 billion, including robotics, app development and plant-based foods. But, she cautioned that the latter, which most visibly has focused on meat substitutes and other foods outside the produce section, should not be allowed to overshadow the importance of fruits and vegetables.
"We have our own story – not as a substitute, but because of our own merits," she said, noting that vegan and produce sales growth is outpacing total food and beverage. "Wherever conversations are taking place about the world's food supply, we need to be there and be leading."
Burns also stressed the importance of providing support to Millennials and Gen Z-ers seeking opportunities in the produce industry, particularly in areas of leadership, ethics, finance and language.
"The role of employer as educator is going to be critically important," she said, predicting a "global renaissance in industry talent."
This year's Fresh Summit premiered some new features built around the idea of a "Forum for the Future." Breaks between general sessions featured "Experience Extension" exhibits including blockchain, produce safety, attracting talent, transportation and networking opportunities.
Fresh Summit continues through Saturday, including additional sessions and two days of exhibitor exhibition. Follow @pgrocer and @jimdudlicek on Twitter for live coverage.