PG Seeking Green Grocer Nominees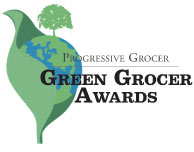 Progressive Grocer is currently accepting entries for our annual Green Grocers awards competition, which recognizes industry leaders from a myriad of store formats and sizes -- from natural markets to multi-store chains to regional and local independents -- that are dedicated to social responsibility through green initiatives.
This will mark the fourth year that we will salute retail supermarket leaders that are blazing a green path in our March 2011 issue, along with a new slate of Green Grocer Hall of Fame inductees, selections for which are based on consistent contributions to companywide eco-friendly practices.
Hall of Fame inductees will continue to be considered for subsequent Green Grocer honors for specific projects in years to come.
ELIGIBILITY
Single-unit or chain stores opened between Dec. 1, 2009 and Dec. 31, 2010, are eligible. Entries may be submitted by retailers, designers, architects or other related firms involved in the project.
JUDGING
PG's Green Grocer winners will be judged on a store's sustainability scorecard in the following areas:
Design/Construction/Building
Site/Land Issues
Materials
Equipment
Business Practices
Conserving Energy/Resources
AWARDS RECOGNITION
All winners will be highlighted in the March 2011 issue of Progressive Grocer and will also be honored at our annual Social Responsibility Awards event that will take place in late 2011.
DEADLINE
Entry deadline is Jan. 7, 2011. Apply today at http://www.progressivegrocer.com/page-green_grocer-94.html