P&G, Communities In Schools Team to Help Students Succeed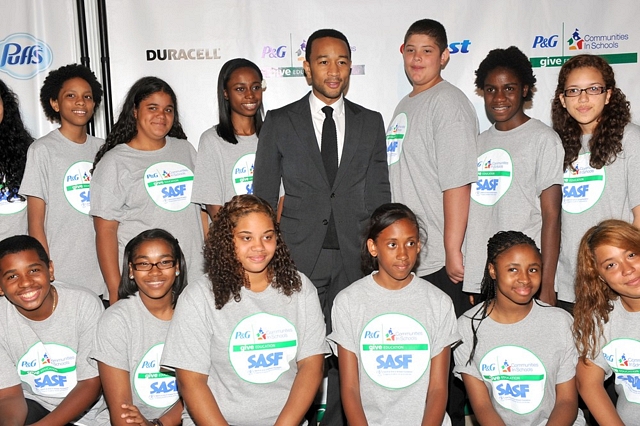 What becomes a Legend most? Helping kids stay in school. That's why Grammy-winning recording artist and philanthropist John Legend (left center) has joined forces with Procter & Gamble and dropout prevention organization Communities In Schools (CIS) on "GIVE Education," a campaign that aims to address this nationwide education crisis.
The campaign encourages consumers to take simple steps to help "School the Nation" -- the effort's rallying cry -- and help keep kids from dropping out through the redemption of GIVE Education brandSAVER coupons and the use of social media tools designed to support the cause and spur others to do the same.
On Sunday, July 31, the GIVE Education brandSAVER, featuring a note from Legend, will appear in newspapers across the United States, with discounts for such P&G brands as Puffs, Bounty, Crest, Pantene, Duracell, Olay and Tide. For each GIVE Education brandSAVER coupon redeemed, Cincinnati-based P&G will donate two cents to CIS, enabling consumers to give back while they save money. The P&G uncapped donation will help provide human, financial and community resources to at-risk students and their families, including tutoring, mentoring, individual or family counseling, health services, food bank access, and college visits. The donation will be based on the number of coupons redeemed starting July 31, and the more consumers save, the more they give.
"Joining forces with CIS and John Legend allows us to support the incredibly important work they do in empowering students to learn and thrive," explained Jim Leish, P&G North America, director of U.S. Operations. "By focusing our social investments on improving life for children and youth, P&G and our brands are able to focus our attention on an area that is critically important, now and for generations to come."
"By investing time and resources in our students, we increase the likelihood that they will make positive life choices, succeed academically and finish school prepared to achieve in life," noted Dan Cardinali, president of Arlington, Va.-based CIS, which, by offering connections to critical community resources, served more than 3,400 schools and almost 1.3 million students and their families during the 2008-09 school year. "P&G and the GIVE Education campaign are enabling CIS to touch and impact even more of our nation's youth, making students' dreams a reality."
"By teaming up with P&G and CIS on the GIVE Education campaign, I can further support a cause of great importance to me -- ensuring that all kids receive a quality education, regardless of where they grow up," said Legend, who will feature in the campaign's national television spot and Facebook page, as well as in the dedicated GIVE Education brandSAVER coupon booklet. "All students deserve the chance to learn and succeed, but not everyone has the same resources available to do so. My work with GIVE Education will help provide additional resources to CIS so they can continue to help the students who need it most."