Peter Pan, M&M'S Team Up for Holiday Baking Season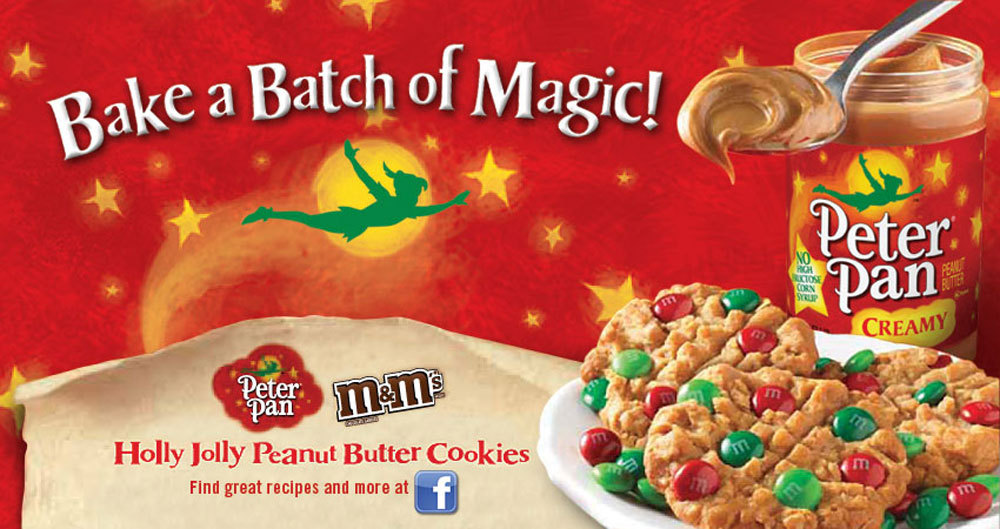 Peter Pan peanut butter, a brand of ConAgra Foods, and Mars Chocolate North America's M&M'S Holiday Milk Chocolate Candies have formed a holiday baking partnership focusing on three new recipes – Holly Jolly Peanut Butter Cookies, Jingle Bell Balls and Holiday Magic Peanut Clusters – promoted on Facebook and 5 million on-pack Peter Pan lid stickers.
"M&M'S is the perfect match for Peter Pan," noted Karl Sears, VP and general manager at Omaha, Neb.-based ConAgra. "Both are iconic brands that have been loved by Americans for generations.ConAgra Foods is tapping into the strength of the M&M'S brand to spread the magic of Peter Pan and keep it top-of-mind for the key holiday baking season."
All of the components of the offline campaign, which encompasses Peter Pan lid stickers, national print ad and point-of-purchase displays, work together holistically to direct consumers to Facebook for the new recipes. Running from November to December, the promotion presents retailers with joint merchandising opportunities to boost sales across both categories.
"We understand the significance of Facebook and other social media outlets in our consumers' lives, and see these spaces as the next frontier for sharing recipes and cooking tips," said Stephanie Moritz, ConAgra's senior director, public relations and social media. "Our Global Marketing team strives to stay ahead of media trends and deliver breakthrough marketing for our well-known consumer brands."
Available at www.facebook.com/peterpanpeanutbutter, www.facebook.com/mms, www.peterpanpb.com and www.brightideas.com, the recipes also feature ConAgra's PAM and Parkay brands.
Hackettstown, N.J.-based Mars Chocolate North America is the North American chocolate operations of Mars Inc., whose headquarters is in McLean, Va.