Pay Attention to Supplements for Better Category Curation, Sales
Get great content like this right in your inbox.
Subscribe
Three out of five consumers say that they don't get enough nutrition in their diet, and 50 percent say that they manage their health issues by taking supplements, according to a recent study from NMI, a Harleysville, Pa.-based consulting firm specializing in health and wellness. "That in itself is proof that retailers should be paying attention to this category," asserts Maryellen Molyneaux, partner at the firm.
Much of the category growth is coming from current users.
"Consumers who use vitamins and supplements have added one or more additional products to their regimen, driving increases in the market," says Molyneaux. Half of all vitamin/mineral/supplement (VMS) users take three or more a day, according to Kristine Urea, VP at Ronkonkoma, N.Y.-based Nature's Bounty.
Consumers who are taking more than one VMS a day are driving innovation of new delivery systems. Nature's Way recently introduced a line of three Single Herb Powders that dissolve in a beverage: Beet (Beta vulgaris) Root Powder, Standardized Turmeric Powder to support joint health, and Activated Coconut Charcoal Powder for internal cleansing. "Sales of herbal powders have been rapidly increasing, solidifying the drinkable powders as an emerging supplement industry trend," notes Priya Backos, associate brand manager at Green Bay, Wis.-based Nature's Way Brands. "In addition to powders, we've seen more interest in gummies, oils and innovative liquids."
Single VMS products are still popular with consumers. Calcium and vitamin D top the list of most used products, according to NMI research, and products for joint health have strong sales. Renee Young, general merchandise manager for Trig's Minocqua, Wis., store, observes that vitamins D and B12, glucosamine, and chondroitin are the best-selling vitamins and supplements at her store, part of a six-store chain based in Minocqua.
"Turmeric has especially skyrocketed in popularity over the past few year," says Backos. Nature's Way recently expanded its portfolio of turmeric offerings with a new Turmerich line featuring two targeted formulas: Turmerich Heart and Turmerich Joint.
Key Takeaways
Consumers taking more than one VMS daily are driving innovation of new delivery systems like drinkable powders.

Benefit-specific supplements continue to grab a bigger portion of category sales as products become more customized.

Consumers are becoming just as concerned about what's not in their VMS products as what's in them.

Sales of essential oils are booming.
Reaping the Benefits
NMI research shows that benefit-specific supplements continue to grab a bigger portion of category sales as products become more customized. IRI multioutlet data for the 52-week period ending Dec. 3, 2017, reveal that the highest dollar sales growth in the entire VMS category came from Nature's Way Primadophilus Fortify (up 41 percent); Procter & Gamble's Align (up 8 percent); and Schiff Digestive Advantage (up 8 percent), an indication that there's still plenty of upside in the probiotic segment.
Retailers have responded by adding more probiotics to their mix. "The average items per store in the food channel has continued to grow to 57.3, which is up 6.1 versus 2016, indicating a more cluttered shelf," says Melody Harrity, client insights consultant for nutritionals at Chicago-based market research company IRI. The category is a profit center for retailers; IRI data show that price per unit and volume increased for both branded and private label shelf-stable probiotics last year. "Customers are willing to spend on these products," notes Young, at Trig's.
"There's been an increase in likelihood to use condition-specific supplements, with some segments showing over 100 percent growth in consumers who say they have used these products in the last 30 days," says Molyneaux. Supplements for skin, mental focus and anxiety were the three most mentioned condition-specific supplements.
Supplements for hair, skin and nails are some of best-selling products at the Paramus, N.J., Fairway location, according to one saleswoman, who cited Nature's Bounty Hair Skin and Nails as a particular customer favorite. "The base Hair Skin and Nails formulation is a blockbuster for our line," affirms Urea, adding that growth of the line is being driven by younger consumers coming into the category early. Nature's Bounty is using targeted digital advertising and social platforms to reach this audience. "The product is a great entry point for Millennials," she says.
Since the customer for beauty vitamins typically shops premium beauty brands, Nature's Bounty uses secondary placements in premium hair and skin care sections to boost sales and "elevate the beauty experience and tie the categories together," according to Urea.
Young has seen a big lift in sales of supplements targeted to hair, skin and nails from the Mason line Trig's carries. "Sales have really picked up in the last month," she notes. Trig's recently ran a buy-one-get-one sale on Mason brand vitamins, which lifted sales considerably for the chain. "Hot-flash relief and joint-pain formulations are big sellers," she says.
Products specifically targeted to menopause relief and products formulated with melatonin for sleep and vitamin B for energy have also been strong at retail.
"Products that help people sleep better, think better and have more energy are top performers," Young observes. "Our Active Mind product has shown a lot of growth."
The eye health segment has also been a particularly active space as consumers spend more time on electronic devices. Last year, Nature's Bounty introduced Lutein Blue under its namesake brand and iShield under its Sundown Naturals label.
Additionally, consumers are becoming just as concerned about what's not in their VMS products as what's in them. According to NMI's Molyneaux, among attributes important to purchase decisions for the VMS category, non-GMO is at the top.
"As consumers become more aware of non-GMO certification, the number of products on the market that are non-GMO certified has doubled," she says. "Consumers may be confused about what GMOs actually are, but the concern is there."
Customers at the Paramus, N.J., Fairway store are "very aware of whether or not products are non-GMO," affirms an associate at the store, while at South Bend, Ind.-based Martin's Super Markets, Rob Kress, a buyer for the 21-unit chain, says that his customers "are interested in non-GMO products and gluten-free products." "If I promote a line that's allergen-free, it gets traction," he adds.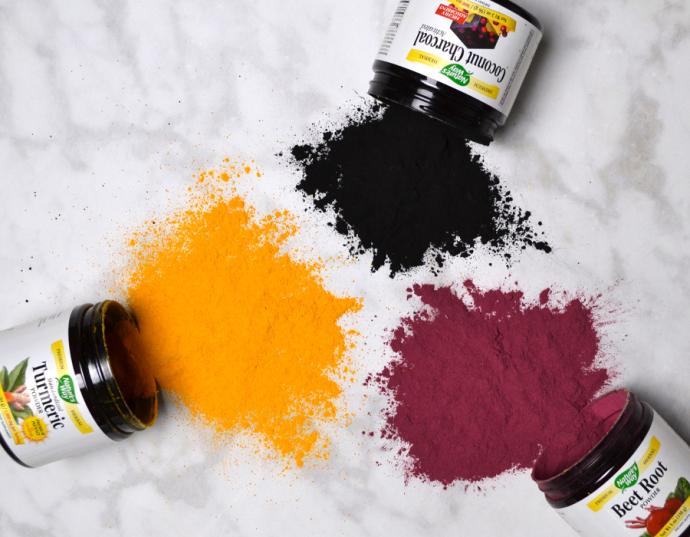 Essential Oils Growing
Sales of essential oils are booming, spurring many retailers with tight space constraints to fund a a way to carve out space for the products.
"According SPINS, the subcategory has seen growth of more than 40 percent in the last 12 months," says Shannon Ousley, director of marketing for Aura Cacia essential oils, part of Norway, Iowa-based Frontier Co-op. "Over the past three years, we have seen more food, drug and mass retailers adding and/or expanding their essential-oil sets. Supermarket retailers such as Wegmans, Fairway and many others represent an important growth area for our brand."
Woodman's Food Markets, a 16-unit Janesville, Wis.-based chain, has started to add essential-oil sections to some of its stores as the chain continues to expand its natural and wellness selection. "It's one of those categories that, if you are into natural and health, you need to have," explains Jeff Garey, nonfoods director at the chain.
Garey admits that it's a challenge to create a meaningful section in a small footprint for a category with so many SKUs. "You really need to have a good partner to understand where the category is going, and because it is constantly changing," he says. Ousley notes that retailers need only 2 feet to display Aura Cacia's top-selling essential oils, a few carrier oils, and essential-oil-based products and accessories like roll-ons or diffusers. The company recently launched Aromatherapy Roll-ons, geared for new users to the category. "They are a great option for supermarket retailers to display," she asserts.
Most essential oils are merchandised in a shelving unit that also serves as an educational vehicle for the category.
There could be more education out there, but it doesn't hurt the category if there's not," says Martin's Kress, who keeps a line Pure Encapsulations oils behind the pharmacy counter. He notes that word-of-mouth and educational outreach alone keeps sale brisk, adding, "It's a category that's absolutely building."