Packaged Louisiana Certified Seafood Item Debuts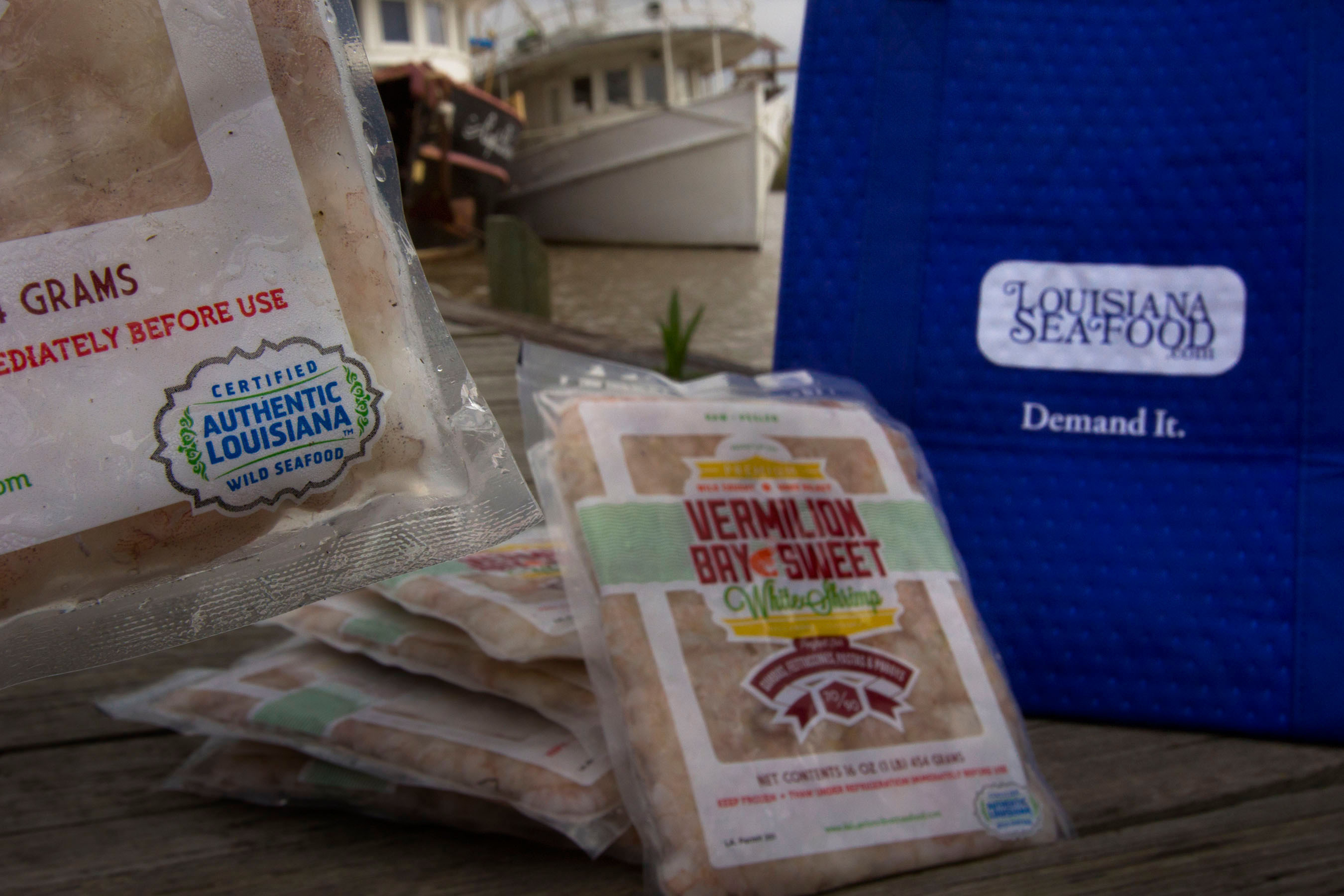 Vermilion Bay Sweet White Shrimp Gumbo Pack, from Delcambre Direct Seafood, is among the first products to carry the Certified Authentic Louisiana Wild Seafood seal on its packaging.
The item (right) made its official debut at an event attended by representatives of the Louisiana Seafood Promotion and Marketing Board (LSPMB) and Louisiana Department of Wildlife and Fisheries (LDWF). After the product's unveiling, Chef Colt Patin of the Louisiana Culinary Institute in Baton Rouge held a cooking demonstration and provided samples of recipes containing premium Louisiana Certified Seafood.
"Vermilion Bay Sweet Shrimp Gumbo Packs are processed, packaged, and distributed by Gulf Crown Seafood in a cooperative effort with The Port of Delcambre and Delcambre Direct Seafood," said Thomas Hymel, project manager of Jeanerette-based Louisiana Direct Seafood. "This Louisiana Certified Seafood product is sustainable, traceable, contains no sodium tripolyphosphate, and meets an ever-increasing demand for fresh, quality gumbo-sized shrimp."
The voluntary labeling program guarantees that all Louisiana seafood bearing the Certified Authentic Louisiana Wild Seafood seal is caught in the Gulf of Mexico or Gulf Coast state waters by Louisiana-licensed fishermen, and is landed, processed and packaged in the state.
"Participation is open to all fishermen, docks, dealers, processors, and retailers who meet the program requirements," noted LDWF assistant secretary Randy Pausina. "Our department, working with the Louisiana Department of Agriculture and Louisiana Department of Health and Hospitals, will make certain that participants adhere to the guidelines and maintain the standards of the Certified Authentic Louisiana Wild Seafood program."
The program is designed to increase the confidence of consumers, retailers and restaurateurs; enable the easy recognition of Louisiana seafood in the market; and ensure that Louisiana's seafood industry can compete and endure in a constantly changing global marketplace.
"Consumers want to know where their seafood comes from and when they see the certification label, they know they are getting the very finest, freshest, and best-tasting wild-caught seafood in the world," observed LSPMB executive director Ewell Smith. "The Vermilion Bay Sweet brand is currently available locally in grocery stores and online  … Consumers should ask their local grocers to carry the product as it continues to be rolled out to retailers locally, regionally and, ultimately, nationally."
Consisting of 15 members each representing a sector of the seafood industry, New Orleans-based LSPMB was created in 1984 by the state of Louisiana to support its large historical commercial fisheries industry.