NuVal App Now Available Via Online Health Platform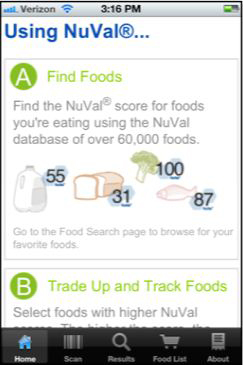 Health management services provider ActiveHealth Management is now exclusively offering the NuVal Nutritional Scoring System app as an interactive, educational tool designed to help people make healthier food choices.
ActiveHealth and NuVal's partnership dates from 2010, when they gave consumer users of ActiveHealth's personal-health portal, MyActiveHealth, access to NuVal nutritional information and scoring system tools. The app enables consumers to access NuVal's nutritional scores instantly through their smartphones and store information about their food choices on MyActive Health.
The NuVal scoring system ranks the nutritional value of foods on a scale from one to 100, with higher scores equaling better nutritional value. The app allows users to scan a food product's barcode with a smartphone to gain instant access to a database of more than 100,000 foods. Users can pull up NuVal scores at the point of decision-making, such as in the grocery store, and then compare scores within a food category, such as beef burgers to veggie burgers, and record their selections in the app.
"Our customers are looking for simple tools that help them make healthy decisions," explained Richard Noffsinger, president and CEO of New York-based ActiveHealth, an independent subsidiary of Aetna. "By providing access to this popular on-the-go nutritional scoring system, and integrating it with our other healthy living tools on MyActiveHealth, we are empowering them to make those positive changes throughout the normal course of their days."
The app's integration with MyActiveHealth allows users to make information available to ActiveHealth health coaches helping individuals manage their weight or medical conditions.
"NuVal is all about empowering consumers to improve their diets and health, one well-informed food choice at a time," adds Dr. David Katz, principal creator of the algorithm on which NuVal scores are based. "The NuVal app takes our innovative scoring system and uses technology to empower people anywhere with objective, at-a-glance health coaches nutrition information they can put to immediate use."
The app is available for download to Apple iPhones.
Featured in more than 1,600 participating grocery stores across the United States, NuVal scores are posted on shelf tags next to the product price and on in-store signage. NuVal LLC is a joint venture of Elk Grove Village, Ill.-based Topco Associates LLC, and Griffin Hospital in Derby, Conn.