NTF Presents President with National Thanksgiving Turkey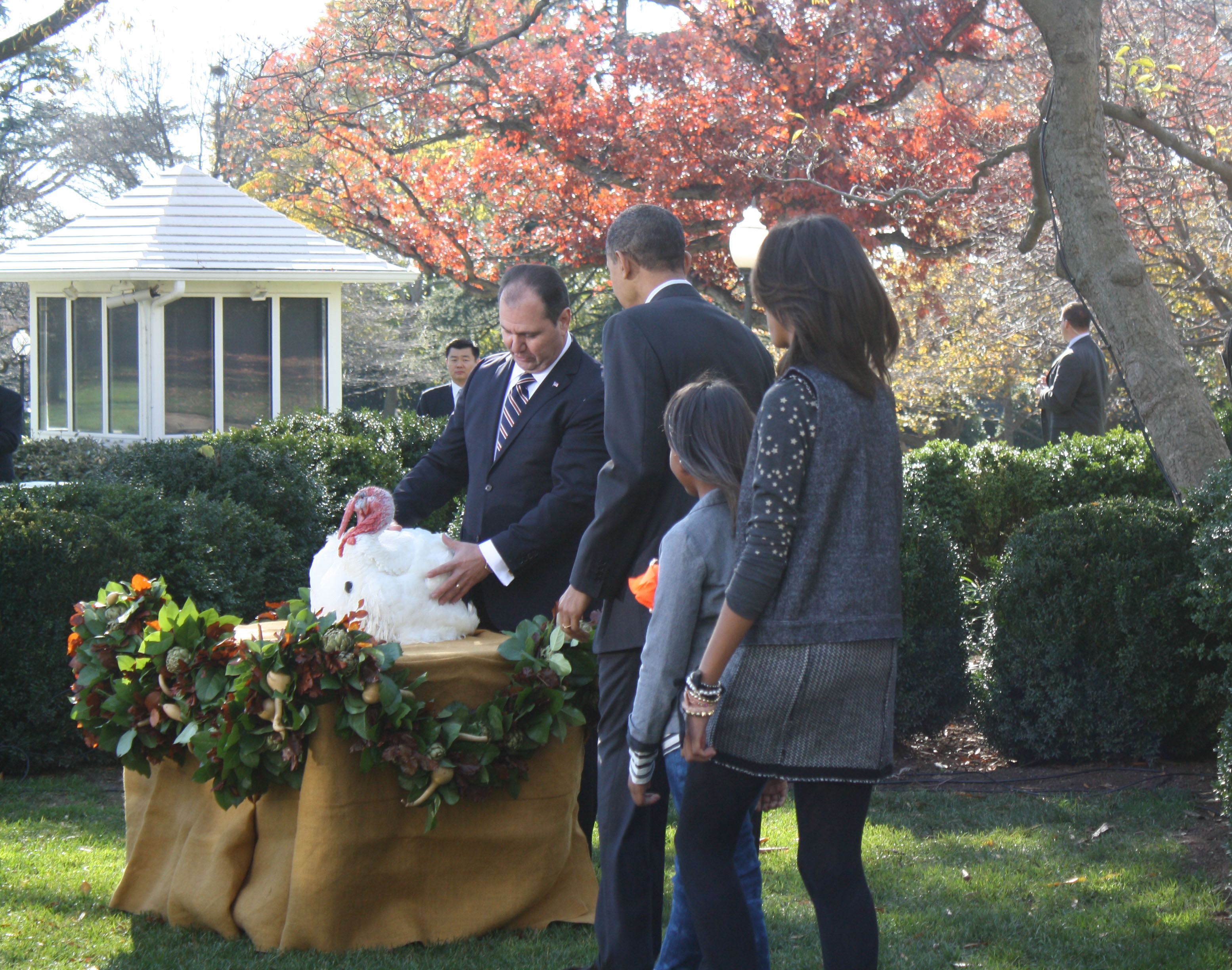 President Barack Obama "pardoned" the national Thanksgiving turkey in a White House Ceremony on Wednesday, as he and National Turkey Federation (NTF) Chairman Yubert Envia celebrated the 63rd anniversary of the National Thanksgiving Turkey presentation.
 
Envia presented President Obama with "Apple," a 21-week old, 45-pound tom.  The turkey's name was selected from more than 200 submissions from school children who participated in California's Agriculture in the Classroom program where they learned about how the National Thanksgiving Turkey was raised.
 
Envia's wife, Holly, and children, Kelly and Sean, also joined Obama at the White House Rose Garden for the annual Thanksgiving presentation.
 
"This is what's truly meant by Thanksgiving – a holiday that asks us to be thankful for what we have, and generous to those who have less.  It's a time to spend with the ones we love, and a chance to show compassion and concern to people we've never met," said President Obama, who then "pardoned" the National Thanksgiving Turkey alternate, "Cider."
 
 Both birds were raised on Foster Farms Wellsford Ranch outside of Modesto, Calif., under the supervision of Envia.  Ira Brister, Foster Farms, handled the turkey during the ceremony.  This small farm was built in the 1960s, a few miles from the original homestead of the founders of Foster Farms, Max and Virda Foster.
 
"It is a tremendous privilege to represent the entire industry by presenting the President of the United States with the National Thanksgiving Turkey," said Envia, VP of Foster Farms' turkey division  "It is an honor to be accompanied by my family in joining President Obama to reflect on the true meaning of this Thanksgiving and the entire holiday season."
 
The night before the presentation, "Apple" and "Cider" stayed in a room at the W Hotel.  After the pardoning, they were driven to George Washington's Mount Vernon Estate and Gardens.  The National Thanksgiving Turkey will be on display for visitors during "Christmas at Mount Vernon," a special program through Jan. 6.  After the holidays, the National Thanksgiving Turkey and its alternate will live in a custom-made enclosure at Mount Vernon's nationally recognized livestock facility.   
 
Jaindl's Turkey Farm in Orefield, Pa., gave President Obama's family two dressed turkeys that will be donated to Martha's Table, a D.C.-based organization that helps those in need.