North Texas Retailers Push Wisconsin Cheese for Super Bowl Snacking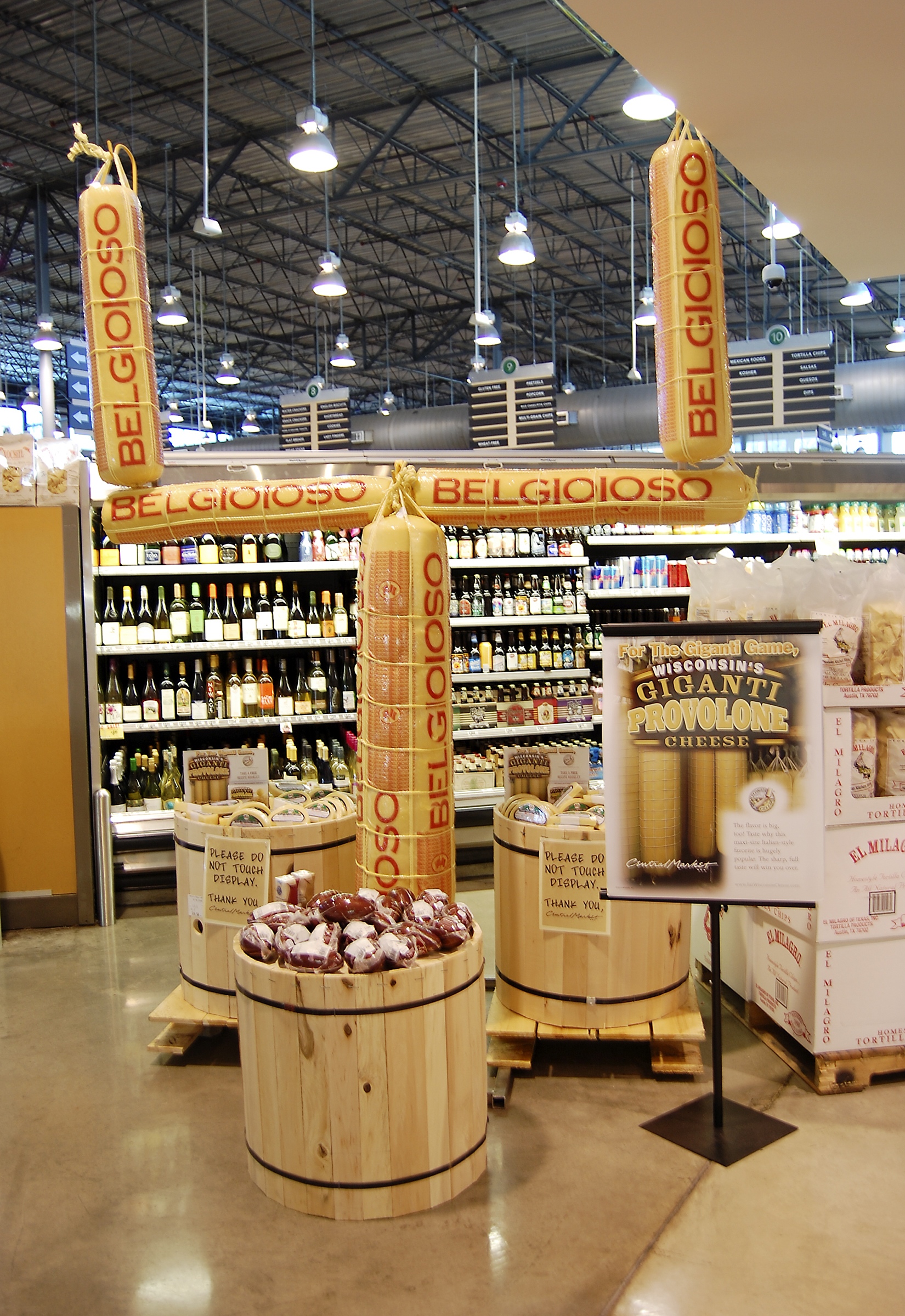 No dobut inspired by the fact that Super Bowl XLV will take place in nearby Arlington, grocers in Dallas and Fort Worth are featuring Wisconsin cheese as the ideal Super Bowl snack in Texas-sized promotions courtesy of the Madison-based Wisconsin Milk Marketing Board (WMMB). Features include a 400-pound goalpost made of BelGioioso Giganti Provolone Cheese, which is now on display at a Fort Worth Central Market through Super Bowl weekend.
Additionally Wisconsin master cheesemaker Kerry Henning held a cheese sampling at the same Central Market location during Pro Bowl Weekend, Jan. 27 through Jan, 30, accompanied by 7,000 pounds of Mammoth Cheddar carved into football-themed items by The Cheese Lady herself, Sarah Kauffman. Customers could enter to win cheese platters including Kauffman's famous football cheese carvings. The Wisconsin native also carved the Pittsburgh Steelers' and Green Bay Packers' logos, and crashing helmets for the opposing teams. Kauffman will be carving in the store on Feb. 3, and will be available to meet with shoppers Feb. 4 and Feb. 5 from 11 a.m. to 6 p.m.
Even specialty cheese shops are taking part -- Scardello Artisan Cheese in Dallas, will feature several wheels of Uplands Rush Creek Reserve, a limited seasonal cheese – in addition to Cave Aged Marisa from Carr Valley, Uplands Pleasant Ridge Reserve Extra Aged, and Dante and Mona cheeses from Wisconsin Sheep Dairy Cooperative.
"Many folks don't realize all of the fantastic, smaller production cheeses that come from Wisconsin," said Scardello cheesemonger Rich Rogers
WMMB, a nonprofit organization funded by the state's dairy farmers, promotes the consumption of milk, cheese and other dairy products from America's Dairyland. Wisconsin leads the United States in cheese production, making more than 600 varieties, types and styles.