Newest Family Fare Market Opening on Earth Day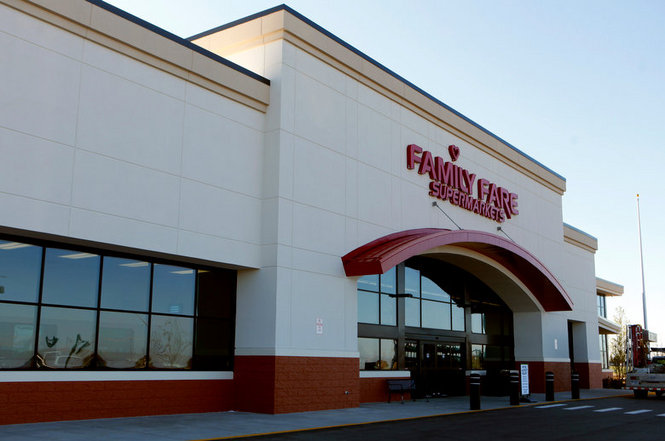 The folks at Spartan Stores say there's no better day than Earth Day – Sunday, April 22 – for the grand opening of the new Family Fare supermarket to open its doors on the Metro Health Village campus in Wyoming, Mich.
The 24-hour store and its satellite Family Fare Quick Stop incorporate environmentally friendly features and Spartan Stores' first Leadership in Energy and Environmental Design certification; it is also Retail LEED-certified in Michigan.
Concern for the environment prompted Spartan Stores to find cost-effective, environmentally responsible solutions for this new store. Sustainable design features include the following:
- Heat island effect: A highly effective white roof lowers the cooling load for summertime air conditioning; it reflects sunlight rather than absorbing it.
- Light pollution reduction: Precision LED lighting was used to illuminate building exterior and parking areas and reduce light pollution into the night sky. Energy-efficient LED lighting is expected to have energy savings of $79,000 over 10 years.
- Water efficiency: Rainwater will be captured in a 20,000-gallon underground tank and used for lavatory flushing 80 percent of the time, resulting in a 52 percent reduction in water purchase for that activity. Extra rainwater will be used for irrigation.
- Optimum energy performance: The store can generate its own energy during peak times with an electric generator. To reduce energy cost by 20 percent over the LEED Baseline for Retail Center, several strategies were implemented pertaining to heating, cooling and lighting.
- Increased ventilation: To improve the indoor environment, the outside air introduced to the store is 30 percent greater than required by code.
- Thermal comfort and design: The building has 25 temperature-control zones to create a comfortable environment for customers and store associates.
- Parking: Electric car-charging stations available at the adjacent Family Fare Quick Stop; LED site lighting for energy efficiency in parking lot, bike rack.
"We are extremely proud to be bringing this environment-friendly supermarket to the consumers of Wyoming and surrounding communities," said Dennis Eidson, Spartan Stores president and CEO. "Our company considered many elements of the construction of the store and neighboring Family Fare Quick Stop, from the materials we used to our energy dependency, all to create sustainable buildings for our consumers and store associates to enjoy. The benefits of LEED certification are numerous including the fact that Spartan Stores is letting the public know that we're achieving our environmental goals and placing great importance on protecting our environment."
Grand Rapids, Mich.-based Spartan Stores Inc. distributes more than 40,000 corporate and national brand products to 375 independent grocery locations in Michigan, Indiana and Ohio, and to 96 corporate owned stores located in Michigan, including Family Fare Supermarkets, Glen's Markets, D&W Fresh Markets and VG's Food and Pharmacy.