New Supervalu Store Design Captures the Spirit of the Northwoods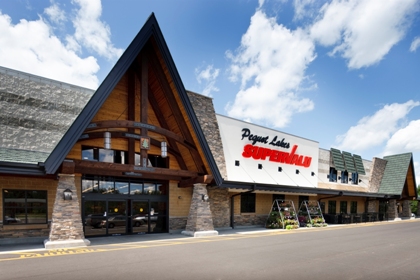 A new Pequot Lakes Supervalu grocery store has opened featuring a rustic design modeled in recognition of the area's numerous vacation cottages and wilderness homes.
Designed by Supervalu Store Design Services, the new 30,000 square foot store is outfitted with authentic cabin décor including split log signage, stacked stone pillars, deer antler chandeliers and even hanging canoes that once belonged to a local resort. To make the store especially relevant to the Pequot Lakes community, the interior walls are lined with photos of outdoor recreation in the region, each aisle directory is named after a nearby lake and bulletin boards in the dining area give anglers an opportunity to show off their latest catch.
While the Pequot Lakes store flies the Supervalu banner, it is actually owned by an independent grocer supplied by Supervalu's wholesale division. "This is a great example of how we're able to create a unique environment for one of our independent retailers that ties them into their community and reinforces their strong brand image," said Harry Steen, Store Design Services' creative design manager.
The use of recurring visual elements throughout the store was designed to create a seamless continuity from one department to another. The Pequot Lakes pine tree logo is incorporated into signage, light fixtures, check-stands and a large cut-tile floor design that greets shoppers as they enter the store. Dyed concrete flooring and abundant custom woodwork contributes to the warm, earthy appearance of the store's interior.
Since tourism in Pequot Lakes is seasonal, the produce department features moveable produce pods and oak orchard bins that allow for a customized floor layout at different times of the year.
Supervalu Store Design Services provides end-to-end store development solutions, including architecture and engineering, store planning and merchandising, store environment, equipment services, and project management.