New ShopRite Set to Rise in N.J. Township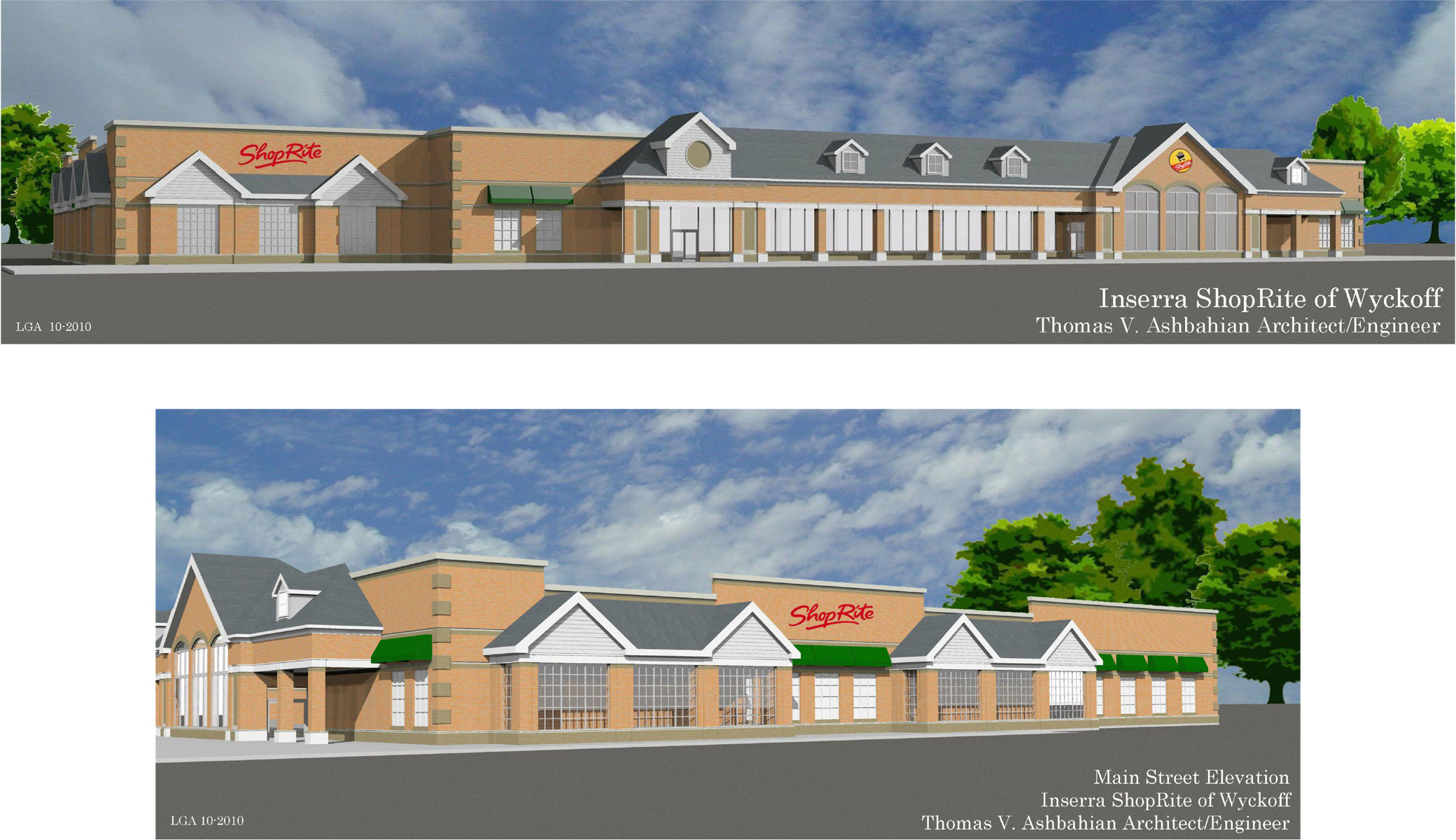 Inserra Supermarkets' plans to redevelop an underused 7.6-acre site in Wyckoff, N.J., which has been vacant for more than 10 years, are progressing, according to the company. The Mahwah, N.J.-based supermarket chain and member of the Wakefern Food Corp. retail co-op intends to tear down the dilapidated 53,000-square-foot building now at the site and replace it with a modern, customer-friendly 62,174-square-foot ShopRite in the township's central business district.
Architectural plans have received unanimous approved by the Wyckoff Design Review Board and undergone refinement following feedback from the Township Planning Board. The development team has additionally submitted site plans and environmental testimony.
"The architectural character and the visual aesthetics of the new building will complement the shopping district," said project architect Thomas V. Ashbahian, a 23-year resident of the township. "Wyckoff is a unique community that affords residents a variety of places to live, work, shop and enjoy leisure activities within their own neighborhood."
Features of the proposed store include the addition of architectural gables to the front façade, each highlighted by horizontal solid siding and roof shingle, which is typically used in residential designs, to complement the two-tone red-brick exterior façade. Brick quoins will be incorporated at each corner of the building to invoke a more traditional architectural motif.
Mainly consisting of two-tone red brick, the rear façade will feature dyed concrete below the loading dock doors to match the building's brick color for visual continuity. Energy-efficient mechanical systems will be centrally located on the roof and screened as needed to avoid street-level visibility. More than 1,300 new shrubs, 56 new shade or flowering trees, and 282 new evergreen trees are also being proposed throughout the site.
The site, which once housed a Stop & Shop, is now undergoing a N.J. State Department of Environmental Protection-approved remediation conducted by Parsippany, N.J.-based H2M Group Inc. Remediation measures include the implementation of soil vapor extraction and in-situ chemical oxidation technologies. As well as having been vacant for a long time, the structure and its 431 parking spaces represent a significant green-space deficit that's being addressed by the redevelopment, according to Inserra.
"The proposed ShopRite will fill a significant gap by offering Wyckoff residents a new choice for shopping with competitively priced groceries as well as nonfood items," said James Jaworski, the lawyer representing Inserra in its application before the Township Planning Board. Wyckoff currently has just one supermarket.
Inserra owns and operates 21 stores throughout New Jersey and New York, including ShopRite of Ramsey and the recently built ShopRite of Stony Point, N.Y.