New Card Gets South Florida Winn-Dixie Shoppers Gas Discounts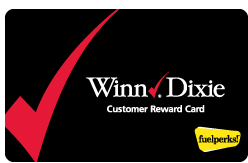 Customers of any of Winn-Dixie Stores Inc.'s 112 Miami/Fort Lauderdale, West Palm and Naples/Ft. Myers, Fla.-area stores who use the grocer's new Customer Reward Card (CRC) can now earn big discounts at participating Shell stations. The offer is part of Winn-Dixie's continuing partnership with Excentus Corp., Dallas-based retail marketing coalition specializing in fuel-based reward programs.
Under the program, the CRC has been redesigned to feature a magnetic stripe on the back, similar to a debit or credit card. The new card is required to earn and redeem fuelperks!.
For every $50 in qualified purchases using the redesigned CRC at Winn-Dixie, a 5-cents-per-gallon gas on fuel is earned and redeemable on a single fill-up, up to 20 gallons at any one of more than 200 participating area Shell stations. Further, the more shoppers spend, the more fuelperks! they earn. For example, if a customer spends $100, she'll earn a 10-cents-per-gallon discount, if she spends $150, she earns a 15-cents-per-gallon discount, and so on. Shoppers also don't have to spend $50 at one time: Purchases are automatically tracked on the receipt tape, and each time the $50 threshold is met, another 5-cents-per-gallon discount on gas is earned.
According to Randy Rambo, regional VP of Winn-Dixie Stores South Region, "Since the program began in 2008, Winn-Dixie customers have saved more than $12 million on gas with fuelperks!"
Each week, there are about eight bonus items shoppers can choose from to earn more fuelperks! For each bonus item purchased, another 5-cents-per gallon-discount is earned. For instance, a customer can buy a 24-pack of Aquafina water and earn an additional 5-cents-per-gallon discount or purchase all of the items and get a 40-cents-per-gallon discount. This is as well as the 5-cents-per-gallon discount earned for every $50 spent.
Jacksonville, Fla.-based Winn-Dixie operates 484 retail grocery locations, including 379 in-store pharmacies, in Florida, Alabama, Louisiana, Georgia and Mississippi.