Nestle Crunch, Paul Frank Debut Designer Bar at Target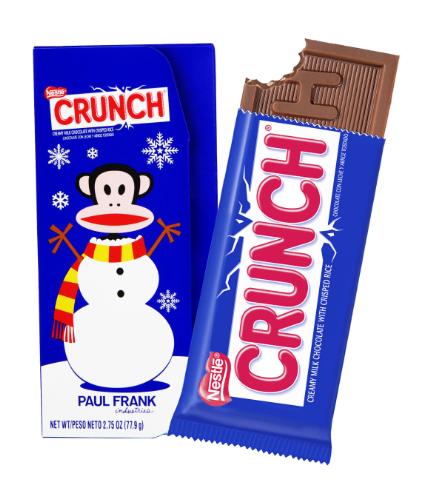 With the season of giving just around the corner, Nestlé Crunch has teamed up with fashion's Paul Frank Industries to create a limited-edition Nestlé Crunch Paul Frank chocolate bar available exclusively at Target starting this month. The partnership marks Paul Frank's first foray into the world of retail confectionary.
The oversized candy bar comes in a colorful gift envelope that does double duty as a holiday card. Decorating the envelope is festive artwork incorporating such characters from the Paul Frank collection as Julius the Monkey and Worry Bear, and includes a special note with a blank section for the addition of a personal message.
"The Nestlé Crunch Paul Frank chocolate bar is sure to become the holiday season's must-have stocking stuffer," said Ryan Heuser, chief creative officer at Cost Mesa, Calif.-based Paul Frank Industries. "This is the first time fans can actually 'eat' a Paul Frank confection!"
"Nestlé Crunch recently introduced a richer chocolate taste and crispier crispies, so it's fitting that the new bar is dressed up for the holidays," added Cherry Joh, marketing manager, Nestlé Crunch at Glendale, Calif.-based Nestlé USA. "Paul Frank is a perfect partner because just like Nestlé Crunch, the fun and whimsical characters bring out the carefree joy of being a kid again, no matter what your age"
Additionally, Nestlé Crunch and Paul Frank have rolled out the Stocking Stuffer Sweepstakes, which offers nine weekly drawings, from Nov. 1 to Dec. 31. One weekly winner will receive one of such prizes as a Julius Dance Machine sound system that can be used with all iPod devices, a Neon Julius Cruiser bicycle, and a $500 shopping spree to the Paul Frank store or paulfrank.com, as well as a month's supply of Nestlé Crunch bars. Consumers can find more information on the sweepstakes at the Nestlé Crunch Facebook page at www.facebook.com/nestlecrunch.