Nestlé Crunch Joins the Girl Scouts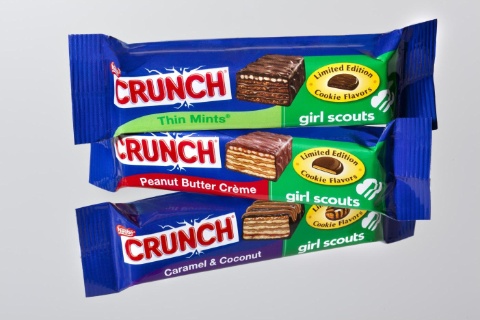 Preceded by a landslide of buzz, Nestlé Crunch Girl Scout Candy Bars have arrived at retail stores across the United States. The limited-time products, manufactured under a national license from Girl Scouts of the USA , pay tribute to the three most popular Girl Scout Cookie flavors: Thin Mints, Caramel & Coconut, and Peanut Butter Crème.
Two days before the June 1 nationwide retail launch,Dylan's Candy Bar Flagship in New York City received the first official retail delivery of the product line. The event was capped by owner Dylan Lauren, daughter of fashion designer Ralph Lauren and author Ricky Lauren, unveiling a 45-foot window display at the candy boutique.
Additionally, at a recent auction held at Galerie Michael in Beverly Hills, Calif., and certified by Heritage Auctions, the world's largest collectibles auctioneer and third-largest auction house, one diehard fan bid a whopping $650 for the only first-edition set of three candy bars from the first production runs. The set was appraised at $500 -- almost 200 times the retail value of the bars.
Auction attendees then started a bidding war over an oil painting of the candy bars painted by Renoir -- Alexandré Renoir, great-grandson of world-renowned Impressionist painter Pierre-Auguste Renoir, that is. All the Nestlé Crunch-themed auction proceeds will go to the Girl Scouts of Greater Los Angeles.
"We've seen no limit to the excitement for these irresistible treats that bring together the best of Nestlé Crunch and Girl Scout Cookies," said Tricia Bowles, spokeswoman for Nestlé USA Confections & Snacks in Glendale, Calif.