Mountain Dew Aids Dark Knight's Rise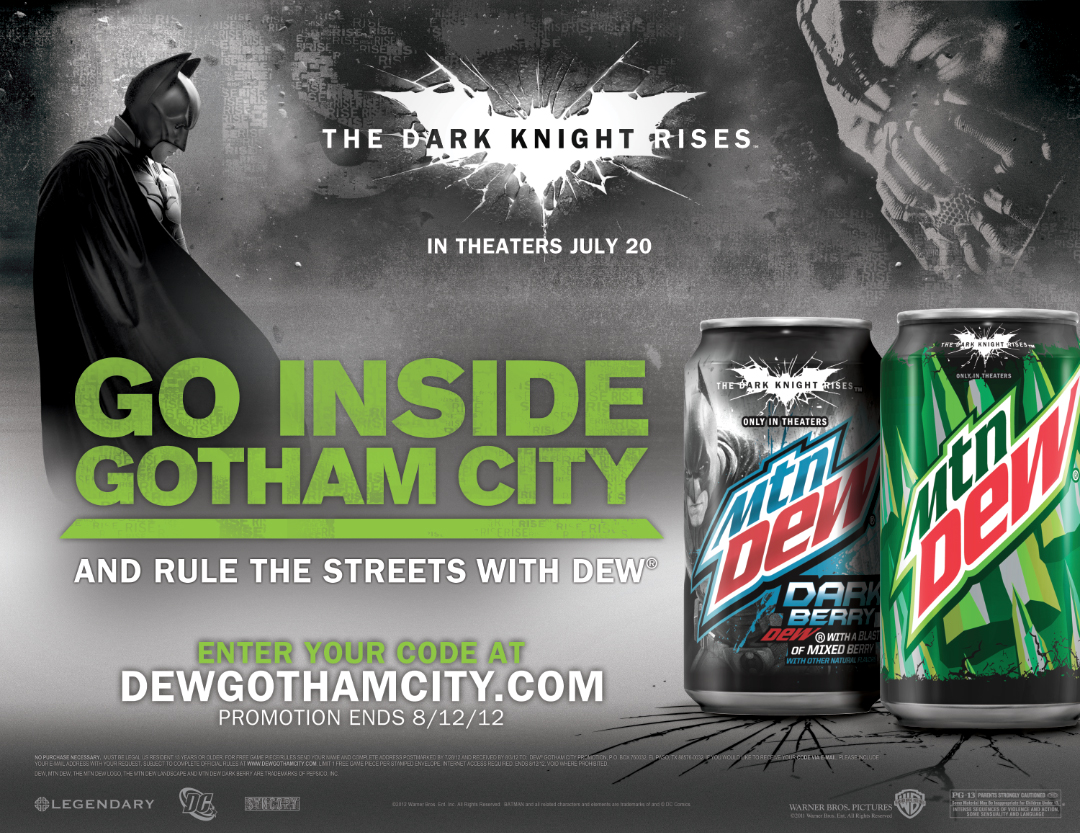 Mountain Dew has formed a partnership with Warner Bros. Pictures' and Legendary Pictures' forthcoming summer blockbuster "The Dark Knight Rises" with activations that aim to slake the thirst of Dew and Dark Knight fans alike. Under the deal, the soft drink brand will unveil exclusive online content and storylines from "The Dark Knight Rises" in advance of the film's July 20 premiere.
"Mountain Dew is all about fueling passion, and that is what this partnership is based on," noted Brett O'Brien, VP of marketing for Mountain Dew, a brand of Purchase, N.Y.-based PepsiCo. "You'd be hard-pressed to find more passionate fans than those of Dew and 'The Dark Knight' franchise. Our goal is to offer those fans unique experiences — from package and product innovation to exclusive content and access that only Dew and Batman together could provide."
Additional elements of the 360-degree campaign will include the rollout of Mtn Dew Dark Berry, a limited-edition mixed-berry flavor inspired by Gotham City's hometown crimefighter, which will be available nationwide for eight weeks starting in mid-June; select 16-oz cans of Dew featuring a bat symbol in thermochromic ink that transforms to the distinctive green color of the soft drink brand when chilled, available for a limited time from mid-June; the June 18 launch of an online destination designed to give fans unprecedented access into the world of "The Dark Knight Rises," including exclusive sneak peeks of movie content and storylines; the ability to redeem points earned by entering product codes from 20-ounce and 2-liter bottles, 12- and 24-packs, and Fountain Cups for Dew or "The Dark Knight Rises" gear or for sweepstakes entries for a shot at winning exclusive prizes; the chance for consumers to vote to select which of four Dark Knight paint schemes will appear on Diet Mountain Dew driver Dale Earnhardt Jr.'s #88 Chevrolet this season; in-store point-of-purchase displays in retailers nationwide; and robust cable, primetime TV, radio and digital advertising, launching June 18.
Additional information regarding the brand's partnership with "The Dark Knight Rises" will roll out in the coming weeks.
Directed by Christopher Nolan, "The Dark Knight Rises" stars Christian Bale, Michael Caine, Gary Oldman, Anne Hathaway, Tom Hardy, Marion Cotillard, Joseph Gordon-Levitt, and Morgan Freeman. The film is based on Batman characters created by Bob Kane and published by DC Comics.