More Produce on Journey to Better Health
Get great content like this right in your inbox.
Subscribe
Key trends in eating today were embodied in the products and concepts on display at this year's Produce Marketing Association (PMA) Fresh Summit last week in New Orleans.
Snacking formats to simplify healthier eating, recipe and meal solutions to make home cooking a snap, value-added products, plant proteins, beverages, and lots of avocados -- these ideas dominated the scene at Fresh Summit, which attracted more than 19,500 attendees this year.
And while its members drive innovation on the product front, PMA will be rolling out a "new vision for a healthier world" on behalf of the association and its Center for Growing Talent.
"There is a lot in the new vision, and it resonates with me because it's inspirational and aspirational," PMA Incoming Chair Jin Ju Wilder (pictured above), of LA&SF Specialty, said during a general session. "It's clear and compelling. What's different is how that vision will shape how we deliver on our missions."
PMA will continue to connect, inform and deliver industry solutions to enhance PMA members' prosperity, while the Center for Growing Talent will continue its focus on attracting, developing and retaining a top-notch workforce.
"The new vision mentions 'bringing together,'" Wilder said. "That's at the heart of PMA and the Center for Growing Talent. We come together to do work and achieve goals that none of us could do alone."
One of those goals over the past year was developing a new strategic plan, starting with the new vision. Wilder noted that a committee of volunteer leaders worked diligently to craft the vision and resulting plan.
"Certainly, we know eating fruits and vegetables and enjoying floral products lead us to healthier and happier lives," she said. "That's a foundational truth we never shy away from. The word 'healthier,' though, in this context is much broader. It's the health of the world we live in, the health of our industry and our businesses. It's about growth and success."
The new PMA vision will come to life through work on key focus areas, including demand creation, science and technology (such as food safety), sustainability, talent, and global connections.
Connecting with Consumers
In her state-of-the-industry address, PMA CEO Cathy Burns challenged growers and retailers: "How are you using technology to meet consumers where they are? And whether high-tech or high-touch, how are you taking steps to ensure your customers have exceptional experiences with your business? Does your people strategy provide talent with exceptional experiences to grow and make a positive impact on our industry?"

Burns identified technology, consumer and talent trends that will shape the industry in years to come, and stressed that working together is key to future success.
"I believe our greatest strength is turning the global produce and floral supply chains into an interconnected community of people and ideas," she said. "Fruits, vegetables and floral connect us to each other and consumers in ways that other products cannot."
Urging members to look beyond their own industries for inspiration, Burns called on the group to embrace inspired marketing that goes beyond advertising and sales, including analysis, research, consumer understanding, business strategy, cultural exploration, benchmarking, innovation and creativity.
 
"We have an opportunity in front of us," she said. "Our products are white-hot in culture now. But being a great product is not enough. We need to have a meaningful role in consumers' lives. … If we are supposed to be half the plate, we should be half the conversation. Ultimately our opportunity as an industry is to leverage our health halo while we reframe, repackage and reposition produce to meet consumer needs in more demand spaces and meal occasions."
Ultimately, that is our challenge as an industry, Burns noted: "To make emotional, meaningful, inspiring connections with consumers that create preference and demand for fruits, vegetables and floral across cultures and conversations."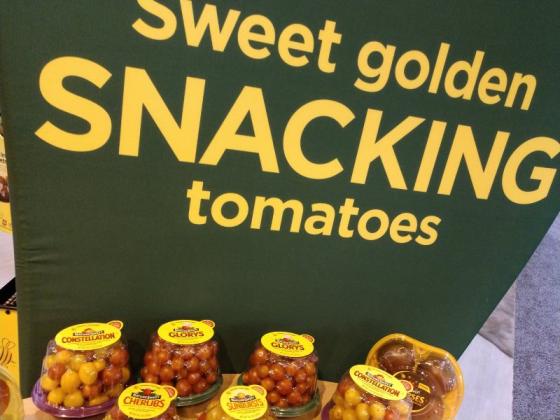 On the Show Floor
From the exhibit hall to the new product showcase, Fresh Summit exhibitors displayed products targeting many key trends driving interest among today's consumers.
Snacking: Making it easier for folks to eat healthier is a priority among fruit and vegetable growers. Among the products featuring smaller, convenient, portable formats were snacking tomatoes from growers like DelFrisco Pure, NatureSweet, PureFlavor and Windset Farms; apple slices from Crunch Pak; mini kiwifruit from Zespri; snack packs featuring fruit and veggies combined with nuts, dried fruits and cheeses from companies such as Naturipe and Reichel Foods; World Peas Peatos crunchy pulse-based snacks; and Veggie Cubes from Truly Good Foods, a sort of "gateway" snack between chips and veggies.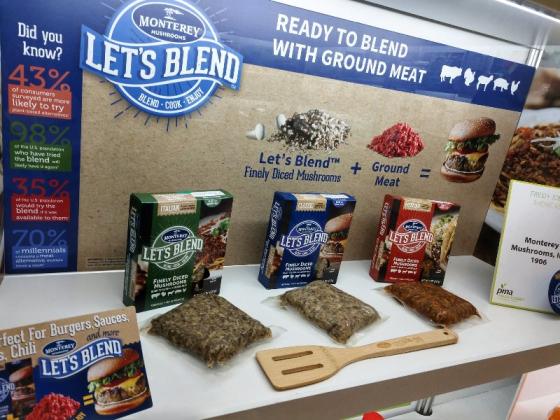 Recipe and meal solutions: Produce cut into a variety of sizes, shapes and formats aimed at making mealtimes easier was shown by many companies, among them Green Giant Fresh, including its "baby veggies" line in partnership with Robinson Fresh; SteamPak mini potatoes from RPE; Let's Blend chopped mushrooms from Monterey Mushrooms, for adding plant protein to ground meats; Nourish Bowls from Mann Packing Co.; and Just Add stir-in spice blends, and guacamole and salsa starters, from Fresh Gourmet.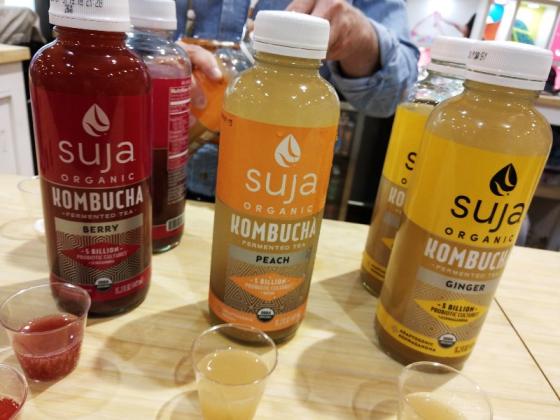 Beverages: Drinks made from greens, kombuchas and drinking vinegars made a strong showing, including Daily Greens, which launched the low-sugar Green Ade line as well as a nutrient-dense Just line, all cold-pressed and HPP processed; Live drinking vinegars; and Suja organic kombuchas.