LIVE FROM FRESH SUMMIT: Freshest on the Floor
Freshness abounds at the PMA Fresh Summit in New Orleans this weekend - from produce to packaging to recipe ideas to solutions for grocers and consumers alike.
For more photos and coverage of the Fresh Summit, follow me on Twitter: @jimdudlicek
Potandon Produce is displaying their new Klondike Rose and Klondike Goldust Express potatoes in microwaveable packaging. Potandon also announced new pouch packaging coming in December, claiming to be the first pouched potatoes on the market. Pouch packaging is indeed a hot trend, as confirmed by retailers we spoke with during the show.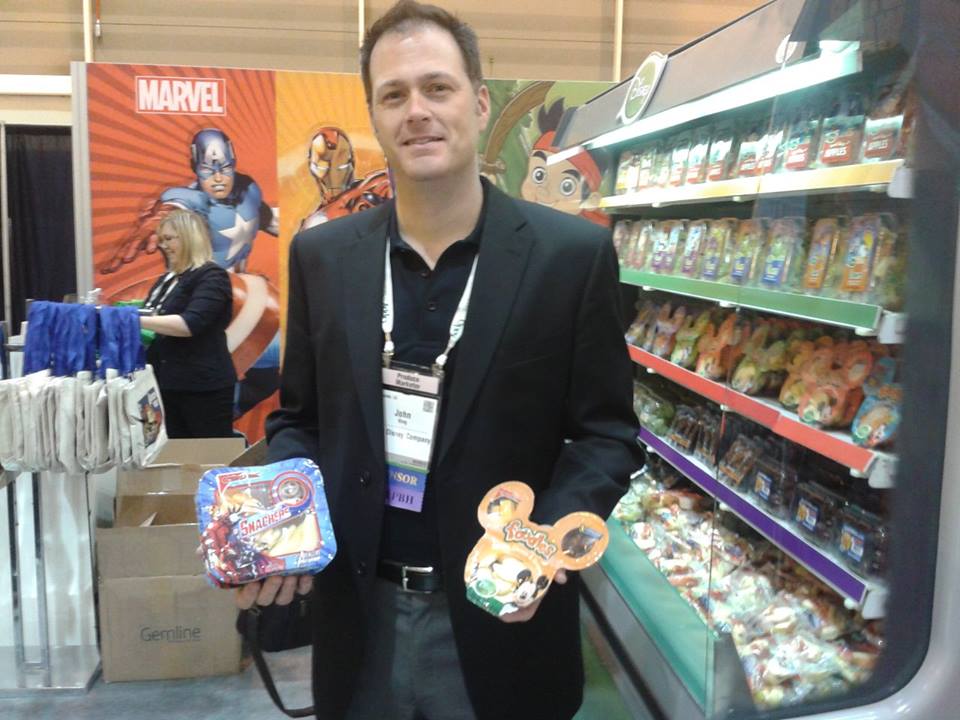 Disney is continuing its efforts to attract more kids to the world of healthier snacking, partnering with companies like CrunchPak on its Flavorz flavored sliced apple line, in clamshell multipacks of single-serve snack bags; and Marvel Comics on Snackers single-serve trays featuring apple slices, grapes and cheese cubes, as shared by John King (photo at left).
House Foods is launching Wok Me Up, a tofu and sauce starter kit to which end users just add the veggies of their choice. The company's Paul Eastman explained this product is aimed at making tofu even easier for home cooks who still might be intimidated by it. With at SRP of $3.99, Wok Me Up has a 65-day shelf life and comes in Sweet Teryaki and Spicy Orange varieties.
Turbana, a leading importer of bananas and other tropical fruits, is a grower-owned company that stresses community involvement in the Latin American nations where its produce is grown. "Our mission is to provide healthy tropical fruits that transforms people's lives," said Turbana's Marion Tabard, explaining that the company puts resources toward improving education, housing, infrastructure and nutrition.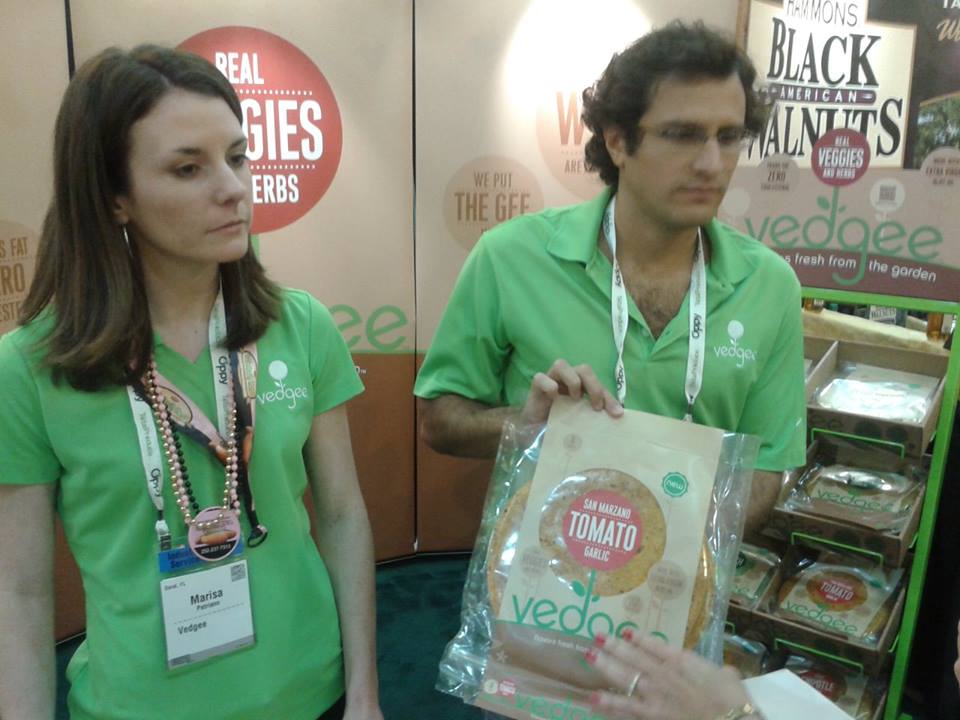 Vedgee is a neat new line of vegetable-based tortilla wraps. They're all natural and made with vegetable purees and extra virgin olive oil. I enjoyed sampling several varities, including San Marzano Tomato & Garlic and Sweet Pineapple Honey; there are eight flavors in all, explained Marissa Petriano and William Isaias (photo at right).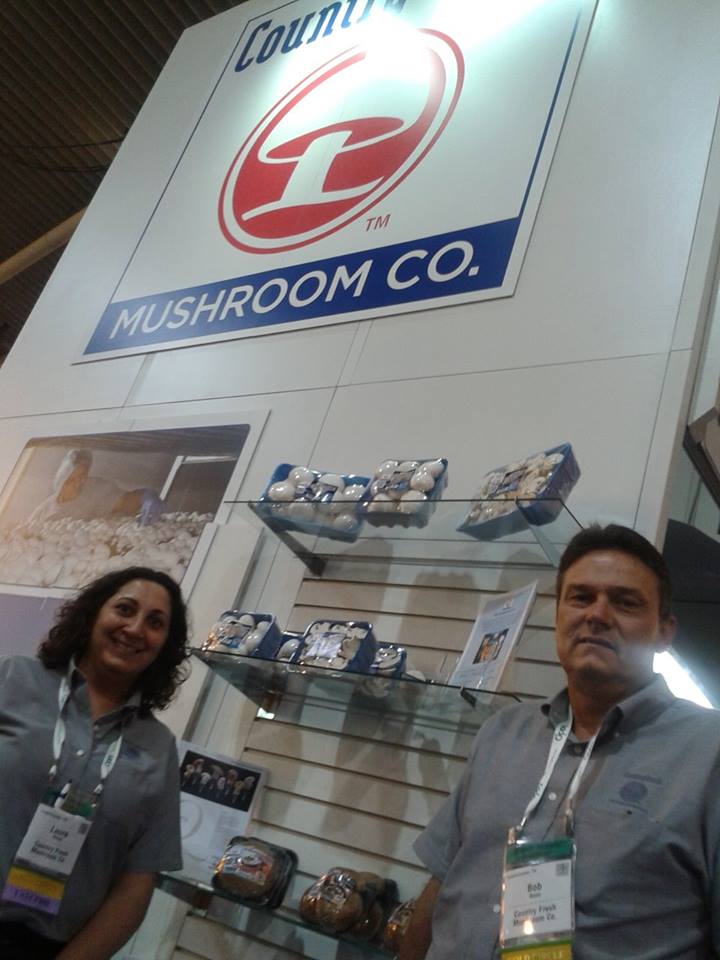 The folks at Country Fresh Mushroomssay portabellas are hot at the moment, including baby bellas like their single-serve personal portabella line. The company, sporting a new branding image this year, also offers microwaveable mushrooms and is moving toward more sustainable packaging, according to the company's Laura Matar (photo at left, with Bob Besix).
Chiquita is displaying new additions to its Fresh Express salad lines, following the trend of bagged salads confirmed by retailers to PG. The company's Dan Wasser (photo below right) showed off new chopped salad kits in Asian, Bacon Caesar and Southwest Varieties, along with Cooking Greens and Juicing Greens, blends designed for those uses, along with single-serve pouches of Baby Spinach, 50/50 Mix and Hearts of Romaine. Coming from Fresh Express in February are its new Gourmet Café single-serve salads in varieties like Kale Power Greens, Chopped Santa Fe and Chicken Caesar, with each ingredient individually wrapped within the bowl. Fresh Express is also unveiling a new packaging design for its organic line.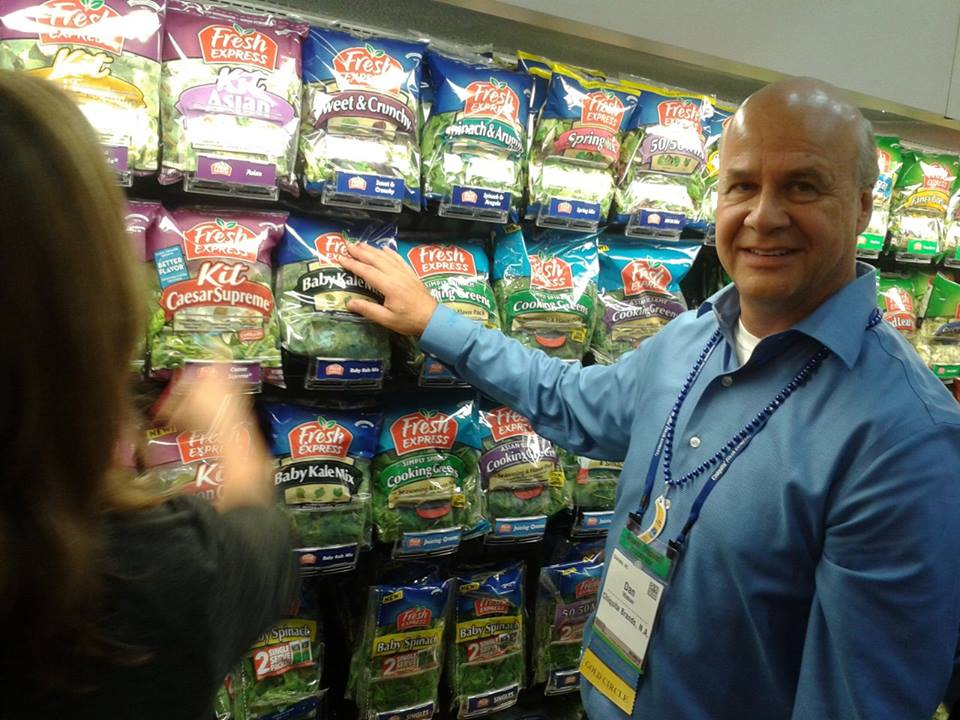 The gang at Limoniera continues to hammer its "Unleash the Natural Power of Lemons" campaign, working with grocers to cross-promote lemons throughout the store in a five-pronged approach aimed at educating consumers on the versatility of lemons when used for health, beauty, recipes, lifestyle and cleaning.
Del Monte Fresh is rolling out a host a new products aimed at enhancing healthy eating and convenience: Watermelon and pineapple spears in five-packs of single-serve pouches (in the photo below, with Del Monte's Veronique Vatinelle); a six-count bag of multicolored bell peppers; Bon Bon sweet grape tomatoes in single-serve c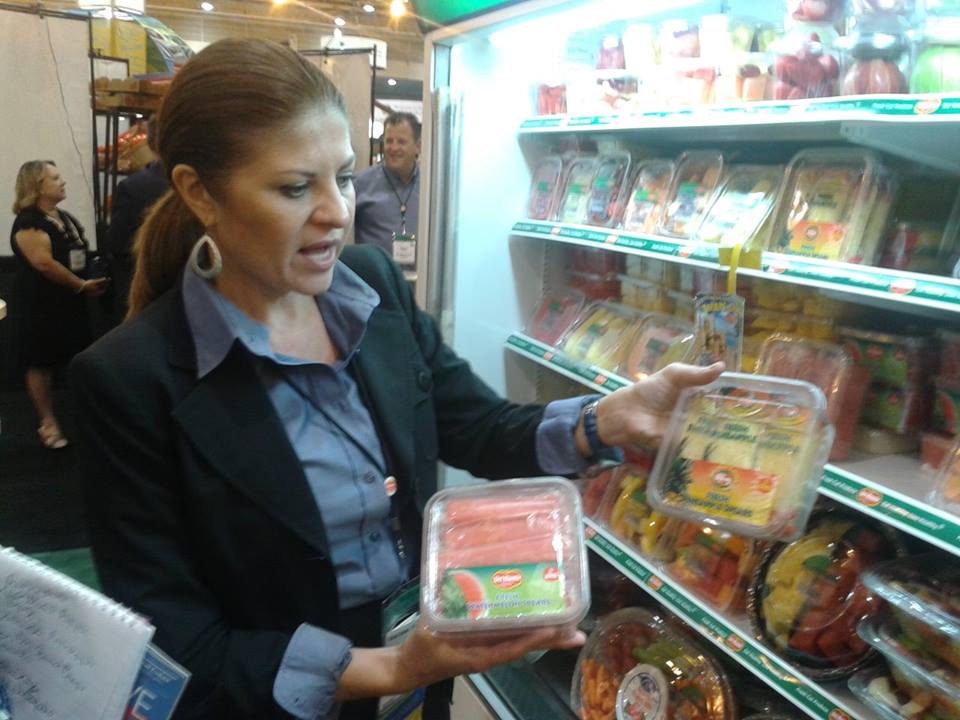 ups; honeydew, apple, pico, mango and pineapple salsas; Fresh & Tasty fresh-cut fruits in handled carrying pouches; and a line of Fresh Guac being test-marketed in the southeast.