Lidl Leveling Playing Field with Walmart
Get great content like this right in your inbox.
Subscribe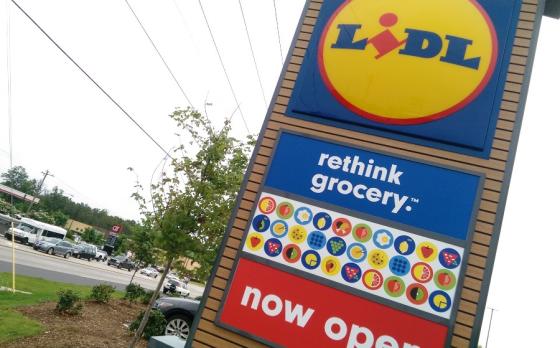 More results are coming in on Lidl's invasion of the U.S. grocery market, and the German hard-discounter is meeting the nation's low-price leader head on.
While Lidl offered lower prices than Walmart on about a third of comparable branded items, its private label basket beat the Bentonville, Ark.-based mega retailer by nearly 25 percent.
That's according to a price comparison test conducted by Kantar Retail, whose branded product basket at Walmart was cheaper than Lidl on only three items: a 12-pack of Bud Light, Crest toothpaste and a pint of Ben & Jerry's ice cream.
Meanwhile, a head-to-head comparison of 15 private label items delivered a ring that was 23 percent cheaper at Lidl than Walmart, with equivalent pricing on bananas and whole milk in a basket that also included apples, canned tuna, and macaroni and cheese.
Kantar did its price comparison at a new Lidl store in Greenville, S.C., shortly after it opened last June, and about a week before I visited the jam-packed location, directly across the street from a Walmart Neighborhood Market.
Walmart achieved price parity on most items in the branded basket, but Lidl enjoyed a double-digit percentage price advantage over Walmart on 11 of 15 private label items, with prices ranging from 10 percent to 57 percent cheaper than Walmart, Kantar reported.
With limited-assortment retailers like Lidl and Aldi already driving growth in private label, particularly among consumers who are both penny-wise and brand agnostic, expect more pressure across all retailers to ramp up their exclusive offerings. Traditional retailers like Kroger already have been enhancing their private label offerings as well as investing in price reduction to better compete against disruptors like Lidl and Amazon.
What does it mean for suppliers?
Kantar's Mike Paglia advises: "Zero in on private label as the essential proving ground for Lidl to convey its value proposition, since both the depth and breadth of price gaps are eye-popping relative to the branded gap. It is important to note that Lidl emphasizes both the quality and price of its private labels, whereas Walmart seems to prioritize price (for example, Great Value). Going forward, it appears that Walmart will need to focus on both variables to compete against Lidl's private brands. Over the longer term, if shoppers endorse Lidl's value proposition, the retailer could take a leading role in setting the bar for private label innovation in ways that will significantly impact both retailers and suppliers."
"Lidl vs. Walmart: Shelf-Price Showdown" is part of Kantar's Breakthrough Insights report for the second half of 2017, "The New Retail Playing Fields."