Lazaran Stepping Down as Marsh Chief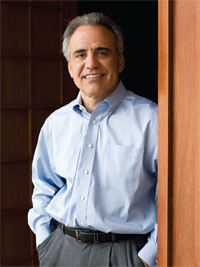 Editor's note: PG is awaiting confirmation of Lazaran's successor from Marsh's parent company, Sun Capital Partners.
Frank Lazaran, chairman, president and CEO of Marsh Supermarkets Inc., announced he will be leaving the Indianapolis-based grocery chain at the end of the month, and his as-yet-undisclosed successor has already been chosen.
Hired to turn around the company after its sale by the Marsh family to Boca Raton, Fla.-based Sun Capital Partners in September 2006, Lazaran said that, since the death of his father last summer, he has realized a need to return to southern California to spend more time tending to family matters, according to a statement Tuesday.
Sun Capital has already hired Lazaran's successor and plans to publicly introduce the new CEO in early May, the company reported.
"The company was struggling financially when it was acquired by Sun Capital," Lazaran told Progressive Grocer in an exclusive interview last August, "and through the hard work of management and our associates, we were able to turn the company around and position ourselves for growth. As a result of this financial stability, we are actively pursuing new site and replacement locations, as well as any potential acquisitions contiguous to our marketing areas."
Under Sun's ownership and Lazaran's watch, Marsh closed a dozen stores, reduced its headquarters staff by more than 30 percent and rebranded many of its stores, a strategy the company said is based on an increasing need to better position many of Marsh's smaller and more traditional facilities with offerings and services consistent with consumer preferences in these store's trading areas.
"Consumer research has consistently indicated that while our initial strategy aimed to better position and differentiate our stores according to their size and varying consumer demands, the fact that both banners continued to operate under the Marsh name limited our ability to do so," Lazaran said in a statement after the recent conversion of eight stores in Muncie, Ind. "Operating under the name MainStreet Market will enable us to take the best of what Marsh stands for in these communities and add a much more customized marketing approach for these stores."
Lazaran said the company's single biggest accomplishment in recent years has been a $60 million-plus capital investment purse applied to updating stores. "Our customers and associates deserve a great facility in which to work and shop," Lazaran told PG in August, "and we have remodeled nearly 90 percent of the store base."
Lazaran's pride in the company's front-line work force reflects his conviction that "they have been instrumental in maintaining the reputation that Marsh has worked so hard to achieve of providing an exceptional shopping experience for our customers." Nevertheless, Lazaran's tenure was clouded by a union lawsuit accusing Marsh of using strong-arm tactics to prevent its work force from organizing. Marsh vigorously denies the accusations; the case was settled in February before going to trial.
Lazaran equates Marsh's still-solid market standing with "our people and our stores, which have served generations of Indiana and western Ohio families. We have actually grown up with the customers we serve."
For more details, read PG's exclusive interview with Frank Lazaran from our August 2010 issue.