Kroger Shuffles Divisional Leadership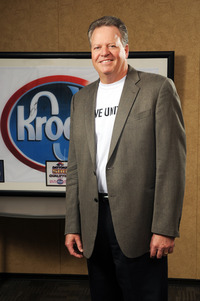 Executives at The Kroger Co. are getting a change of scenery, as the grocery giant assigns new top leadership at its divisions on opposite ends of the country.
Jay Cummins (pictured at right) will be leaving Kroger's Mid-Atlantic division to take over the presidency of the Salt Lake City-based Smith's Food and Drug Stores division. Meanwhile, Joe Fey will succeed Cummins as president of the Mid-Atlantic division after leading the Pacific Northwest-based QFC division.
Cummins succeeds outgoing Smith's boss Mark Tuffin, who was named senior vice president of retail divisions in December.
"In his more than 40 years with the company, Jay has been an enthusiastic and passionate leader in each role he has held," said Mike Ellis, Kroger's president and CEO. "Jay's experience and commitment to our Customer 1st Strategy will ensure Smith's continues to go above and beyond for our customers." Smith's operates 131 stores in Utah, Nevada, New Mexico, Arizona, Montana, Idaho and Wyoming.
Longtime Kroger Veterans Take on New Assignments
With more than 40 years of retail experience, Cummins began his Kroger career as a clerk in 1972 in Huntington Beach, Calif. He has since served in positions in store and district management and in grocery merchandising for the company's Food 4 Less division. In 2002, Cummins was named VP and general manager of the Food 4 Less Midwest division, where he led the expansion of the Food 4 Less price-impact warehouse store format in the Chicago area. In 2004, he was named president of the Los Angeles-based Food 4 Less division, and to Mid-Atlantic in 2007.

Fey (pictured at left) "always leads by example and is deeply committed to our customers, our associates and our company," Ellis said. "His merchandising expertise and experience in leading the QFC Division will be great assets in our Mid-Atlantic division. We are looking forward to his positive energy and guidance." Kroger's Roanoke, Va.-based Mid-Atlantic division operates 121 stores in Virginia, West Virginia, North Carolina and the eastern portions of Tennessee, Kentucky and Ohio.
Fey also can boast four decades in the industry, beginning his career as a meat clerk with Kroger in 1972. He was quickly promoted to a variety of leadership positions including store management, deli/bakery merchandising and meat/seafood merchandising in both the company's Central division and corporate office in Cincinnati. In 1999, Fey was named VP of merchandising for the Dillons division. He was named VP of merchandising for the Michigan Division in 2008, where he served before being named president of QFC in 2011.
Cincinnati-based Kroger, Progressive Grocer's 2013 Retailer of the Year, operates 2,418 supermarkets and multidepartment stores in 31 states under two dozen local banner names including Kroger, City Market, Dillons, Jay C, Food 4 Less, Fred Meyer, Fry's, King Soopers, QFC, Ralphs and Smith's.