Kroger Launches Dip Apparel Line
Get great content like this right in your inbox.
Subscribe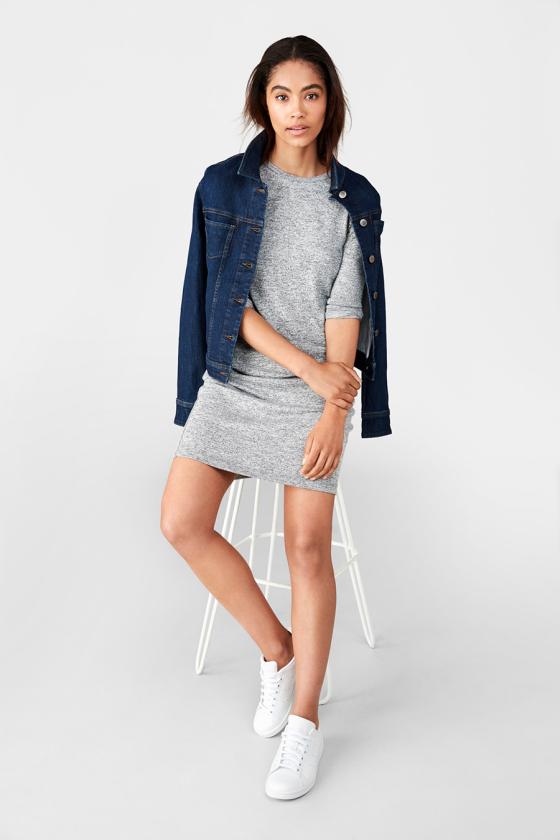 The Kroger Co. is rolling out its Dip apparel brand nationwide this week to 300 Fred Meyer and Marketplace format stores.
"Dip creates a new experience for our customers, focusing on a thoughtfully designed and curated collection that is simple, stylish and affordable," said Christina Groth, VP of general merchandise at Cincinnati-based Kroger. "During the product development process, we were intentional about creating a brand that's unique and resonates with our shoppers – and we believe we've done just that."
Speaking of affordability, more than 80 percent of the collection costs $19 or less. The collection offers clothing for men, women, young men, juniors, kids, toddlers and babies, and features essential items as well as seasonal trend pieces. The grocer first revealed the brand's impending launch this past July.
For a cohesive and compelling brand experience, Kroger leveraged customer insights from the data analytics company it owns, 84.51°, and worked with Canadian fashion designer Joe Mimran, best known for developing the Club Monaco, Pink Tartan and Joe Fresh lines. Additionally, Toronto-based Jackman Reinvents helped create the brand name and image, go-to-market plan, and end-to-end shopper experience.
"No detail in the fit and finish of Dip has been overlooked," said Mimran, who served as creative director of the line. "Dip is reflective of customers' true needs and built around a foundation of key modern pieces. It's fresh. It feels fantastic in your hand. It's a fun attitude. It's all those things. These are clothes for really living life in and looking good while doing it."
"To win, you must view the world through the eyes of your customers," observed Joe Jackman, founder and CEO of Jackman Reinvents. "At every stage of development, we kept the customer benefit at the forefront. If an element didn't help shoppers achieve effortless style every day, it didn't make the brand. Simple as that."
"We anticipate customers quickly connecting with Dip," added Groth. "The new brand is easy to find in our stores and offers incredible quality, style and value. It's simplified pricing, so there's no waiting for a sale or hunting for a coupon. And we're just getting started. We want everyone to enjoy Dip – expect to see new items, designs and styles."
Kroger employs nearly half a million associates who serve more than 9 million customers daily through a digital shopping experience and 2,800 retail food stores under various banners. The company is No. 2 on Progressive Grocer's 2018 Super 50 list of the top grocers in the United States.