Knowledge is Power in the Meat Department
Get great content like this right in your inbox.
Subscribe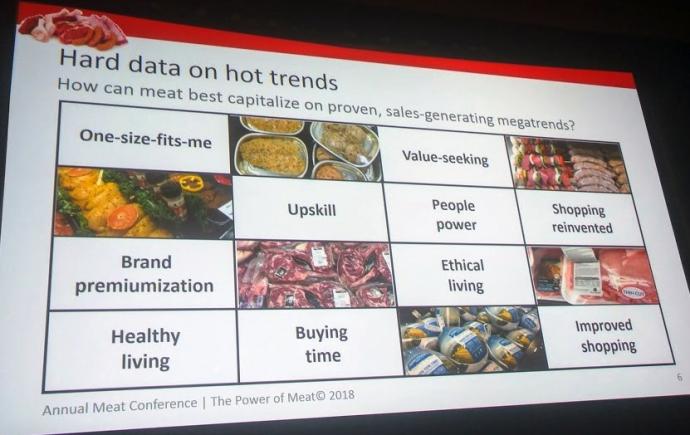 Consumers demand transparency as a "shortcut to confidence" in your brand, said David Fikes, FMI's VP of communications and consumer/community affairs, asserting that transparency helps transform retailers from "just a store" into allies who truly support shoppers' needs.
And transparency is driving sales, because consumers want to know about sourcing, animal welfare and environmental practices. According to the latest Power of Meat study, the annual survey of meat shoppers unveiled at the conference every year, special attributes saw dollar gains of 4.8 percent and volume growth of 5.1 percent over 2017 versus a flat year for conventional.
With consumers noticing package claims like all-natural, organic, grass-fed, hormone-free and antibiotic-free, such awareness has the highest positive impact on purchase likelihood for humanely raised, hormone-free and antibiotic-free products, the survey asserted.
Education Breeds Loyalty
But the power of education goes beyond what's in the food and how it's made. Anne-Marie Roerink, principal at 210 Analytics, the consultants who fielded the study, noted that more than half of shoppers "merely manage" or need help with preparing meat, and more than 80 percent stick to just a handful of cuts with which they're comfortable.
Retailers who offer guidance to meat shoppers stand to benefit, as the study indicates that broader knowledge of different cuts leads to a greater variety purchased, more frequent meat preparation and thus higher spending, more frequent trips and greater store loyalty to the retailers who build trust through education.
So while price per pound remains a perennial sales influencer, engagement is key to long-term relevance for meat retailers. Digital touch points and in-store signage offer the greatest potential for connecting across all age groups.
Always Solutions
And while Millennials are the hot demographic, it's actually Generation X'ers who are responsible for more than half of e-grocery and meal kit purchases, according to Laurie Rains, group VP for retail commercial strategy at Nielsen.
While price per pound remains a perennial sales influencer, engagement is key to long-term relevance for meat retailers.
Meal kits are emerging as a safe way for consumers to experiment with early-stage trending flavors, noted Kelley Fechner, director of customer solutions at Datassential. And as grocery retailers increase their position in the meal kit category, it's an opportunity for meat to reinforce its position, whether that's at center plate or as a key ingredient to innovative yet convenience meal solutions.
And that's not to be taken lightly, as meal kits are expected to be a $25 billion business by 2026, according to Jill Tomeny, senior manager for fresh category solutions at Daymon.
Offering solutions like meal kits is a way grocers can leverage shoppers' desire for customization, evolving from "one size fits all" to "one size fits me" to better connect with consumers. That's going to be increasingly important for traditional grocers, a segment not expected to keep pace with inflation in the coming years while most food growth is generated by ecommerce, fresh formats and limited assortment retailers, according to Neil Stern, senior partner at McMillan Doolittle.
Continual Connectivity
The importance of connecting with shoppers also was a key message of last month's NGA Show, the annual gathering of independent grocery operators in Las Vegas (moving to San Diego in 2019). And with full-service meat departments being a key point of differentiation leveraged by many indie retailers against larger competitors, the lessons of both gatherings are applicable to all.
For instance, key factors driving the success of independent grocers today include community connectivity, authenticity and integrity (i.e. transparency), niche specialty foods and convenience options.
Digital strategies should saturate users with compelling content that showcases the retailer's core strengths. Focus on hitting the right people at the right time with the right content rather than the sheer number of followers.
"Consumers are fickle," remarked Dennis Host, VP of marketing for Minnesota-based grocer Coborn's. "The faster we get to being relevant to our guests and connect as a brand, the longer we'll be around."
Leveraging technology, doubling down on service and knowing shoppers' most urgent everyday needs will go a long way toward staying competitive, relevant and viable in a constantly changing market.
It's a universal lesson, whether you're an independent grocer carving out a niche or a supermarket trying to boost meat sales. Stay ahead of the shopper and sales will follow.
Follow our coverage of live events on Twitter at @JimDudlicek and @pgrocer