Kellogg Names President, U.S. Sales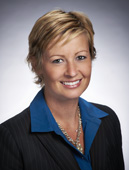 Kellogg Co. has promoted Darcey Macken from SVP, customer development, U.S. sales to president, U.S. sales. Macken (left) will succeed Mark Wagner, who will retire from Kellogg effective Dec. 31 after more than 30 years with the company.
"Darcey has a proven track record for success," noted Brad Davidson, SVP, Kellogg Co. and president of Kellogg North America . "During her tenure with Kellogg, she has successfully led numerous large customer and commercial teams in the U.S. sales organization. Most recently, Darcey spearheaded the definition and advancement our new commercial model."
In the near future, Macken will meet with retailers across all formats to understand how to fully leverage Kellogg's portfolio of products and how to employ company insights to spur category growth. She will be based at Kellogg global headquarters in Battle Creek, Mich.