Indies Pursue Dominick's Locations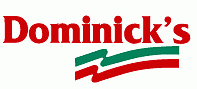 Now it's the independent grocer's turn to pick through the bones as Safeway prepares to leave the Chicago-area market by shutting down its Dominick's chain a little over a week from now.
Indie chains affiliated with 150-member Joliet, Ill.-based cooperative Central Grocers Inc. are reportedly negotiating to acquire up to 10 soon-to-be-vacated Dominick's stores in Chicago and its suburbs, Crain's Chicago Business has reported.
Those independents reportedly include Tony's Finer Foods, Strack & Van Til and Treasure Island, though these grocers did not confirm negotiations are under way, Crain's reported. Crain's further reports these grocers have hired food industry investment banker David Schoeder to negotiate a deal with Pleasanton, Calif.-based Safeway Inc. to acquire the stores.
Jewel Not Interested in Further Locations
Meanwhile, it was widely reported Thursday that Jewel-Osco has no plans to purchase additional Dominick's locations after picking up four in the wake of the Dominick's closure announcement last month. Milwaukee-based Roundy's Inc. is paying $36 million for 11 Dominick's locations to be rebannered as Mariano's Fresh Market locations.