Hy-Vee's McCann Retires, Laing Promoted
Get great content like this right in your inbox.
Subscribe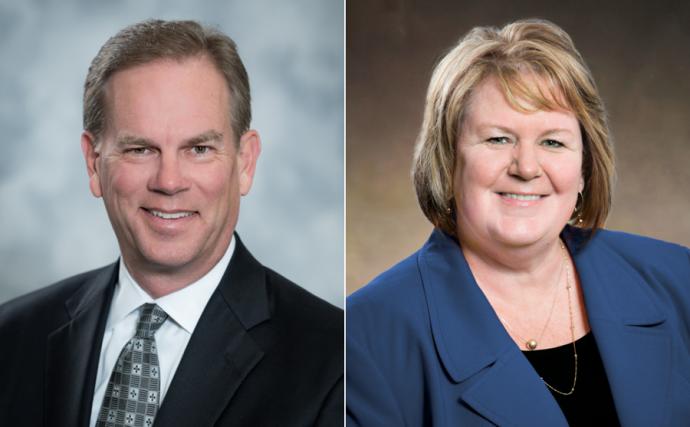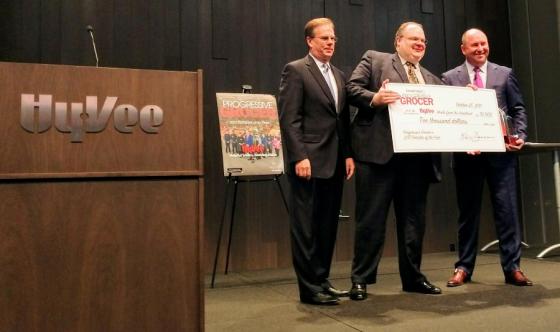 Andy McCann, vice chairman, EVP and chief administrative officer of Hy-Vee Inc., is retiring after 41 years with the Midwestern grocery chain, and will be succeeded by Sheila Laing, the retailer's chief human resources officer.
"I could not be more thankful to Andy for the contribution he has made to our great company. He has been a strong leader in virtually every aspect of our organization because of his hard work and dedication," said Randy Edeker, Hy-Vee's chairman of the board, CEO and president.
McCann started with Hy-Vee in 1976 at the Park Avenue Hy-Vee in Des Moines as a part-time clerk. He worked through the ranks and was promoted to second assistant manager at the Marshalltown, Iowa, store in 1983. In 1985, he was promoted to assistant manager at the Williamsburg Hy-Vee in Lincoln, Neb., opening what was at the time the largest store in the company.
McCann received his first store director assignment in 1989 at the Fort Street Hy-Vee in Omaha, Neb., followed by the North Dodge Hy-Vee in Iowa City, Iowa, and finally the store on Agency in Burlington, Iowa.

In 1996, McCann was once again promoted, this time to director of operations, and then to assistant VP of operations over the northeast region. In 1997 and 2010, McCann served one-year terms on Hy-Vee's board of directors. He was inducted into the Hy-Vee Hall of Fame when he was honored in 1999 as the company's Director of the Year.

In 2001, McCann was promoted to assistant VP of Hy-Vee and president of Perishable Distributors of Iowa (PDI). In 2009, he was promoted to VP of Hy-Vee and president of PDI. He then was promoted to SVP of retail health in 2011, a position he held through 2012, at which time he was selected as SVP of store development.
In 2013, he was promoted to EVP and chief health officer, was elected to the executive committee, and became a permanent member of the board of directors. In 2014, McCann's role was expanded to EVP, chief administrative officer and chief health officer. He had the distinction of being named Hy-Vee's first-ever vice chairman in June 2015.
Sheila Laing Promoted
With McCann's retirement, Laing will assume the role of EVP and chief administrative officer. She's currently Hy-Vee's EVP for health and wellness, and chief human resources officer.
Laing began her Hy-Vee career in 1987 as a part-time checker/stocker at the Dodge Street Hy-Vee in Dubuque, Iowa. In 1988, she moved to the West Kimberly Road Hy-Vee in Davenport, Iowa, as a full-time cheese island clerk, and later that year moved to the 95th Street Hy-Vee in Overland Park, Kan., as a meat clerk. In 1989, she was promoted to meat and cheese manager at the Raytown, Mo., Hy-Vee, and later that year was promoted to shift manager at the Brookings, S.D., Hy-Vee.
Laing's next move took her to the Chariton Distribution Center in Iowa, where she served as HR manager of distribution in 1996. She was promoted to director of HR in 1997 and named assistant VP of HR for the Chariton facility in 1999. In 2005, Laing was named assistant VP of employee benefits.

She was elected to the Hy-Vee Hall of Fame in 2003, when she received the company's Community Involvement Award. In 2009, Laing was elected VP of HR for Hy-Vee, a role that included overseeing the company's benefit plan and recruiting, as well as all HR functions. She was promoted to SVP of retail health in 2013; in 2014, her role was expanded to SVP and chief customer officer, followed by a promotion to EVP in 2015.

West Des Moines, Iowa-based Hy-Vee Inc. is an employee-owned corporation operating more than 245 retail stores across eight Midwestern states, with sales of $10 billion annually.