07/31/2018
Hy-Vee Opens 1st Free-Standing HealthMarket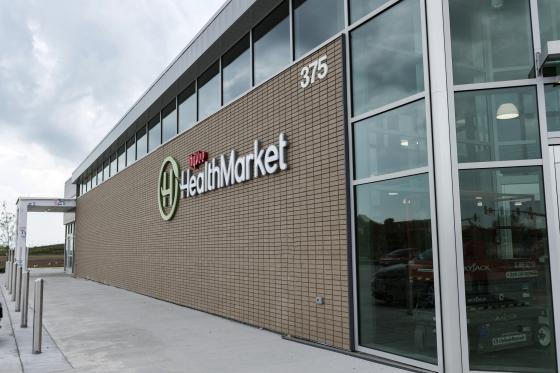 An expansion of an in-store department, the new free-standing Hy-Vee HealthMarket opened this week in the retailer's home base of West Des Moines, Iowa.
The 15,7000-square-foot store offers many of Hy-Vee's original store-format products, including fresh produce, high-quality meat and seafood, dairy and frozen food items, and Aisles Online pickup lockers, as well as health-related amenities such as a full-service pharmacy, health clinic and hearing aid center, and a sports nutrition area. The store also features a hydration station that includes nitro coffee, kombucha and Bevi infused waters, along with an Orangetheory Fitness center that will be adjacent to the store, thanks to a partnership developed with Hy-Vee last year. Products from Basin, a beauty brand specializing in all-natural bath and body products, also will be prominently featured. All told, the store will offer more than 11,000 items.
The new concept is about three times larger than the department in the store that it's based on.
"This is a trial run," said Randy Edeker, Hy-Vee's CEO, in a Des Moines Register report. "I already see some things I'd do different."
The company plans to open up to 60 HealthMarket stores, with two being added next year in the Kansas City area, and in Madison, Wis.
Hy-Vee ranked 15th in Progressive Grocer's 2018 Super 50 list of the top grocers in the United States.