Hunger Action Month Campaign Back at Jewel-Osco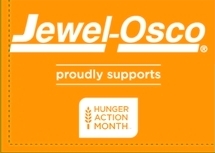 Jewel-Osco is partnering with multiple food banks in Illinois and Indiana on a proactive food drive to support Hunger Action Month in September.

"Give a Little, Feed a Lot," going on now at all Jewel-Osco stores and continues throughout the entire month, will benefit the Greater Chicago Food Depository, the Northern Illinois Food Bank and the Food Bank of Northwest Indiana, as well as the Midwest Food Bank, the River Bend Foodbank and dozens of local pantries across the chain's service area.
"Hunger relief is a top corporate social responsibility issue for our company," said Brian Huff, Jewel-Osco president. "So 'Give a Little, Feed a Lot' is a great opportunity for us to work with our food bank partners and others in the community, to help people in need in this challenging economy."
During the campaign, customers can make monetary donations at store registers as well as food contributions in specially marked bins. All donations will benefit the food banks and local pantries.
"The need for food assistance has never been as great as it is today. That's why we are so grateful for Jewel-Osco's support in feeding our hungry neighbors," said Pete Schaefer, president and CEO of the Northern Illinois Food Bank. "By raising awareness with their employees and their customers, and raising dollars, we will be able to get more food to more of our hungry neighbors."
The Greater Chicago Food Depository continues to see near-record numbers turn to its network of 650 pantries, soup kitchens and shelters, said Kate Maehr, the depository's executive director and CEO. "We are excited to participate in Jewel-Osco's 'Give a Little, Feed a Lot' program and to raise much-needed food, funds and awareness for those who face hunger in September and year-round."
Angie Williams, executive director of the Food Bank of Northwest Indiana, added: "Jewel-Osco has been a great Hunger Action Month partner for the past four years, and they've demonstrated fantastic leadership in raising public awareness, fundraising and supporting not only the Food Bank but our local pantries as well."
Last year, Jewel-Osco's "Give a Little, Feed a Lot" campaign raised more than $2 million in combined food and cash donations.
Jewel-Osco, a Supervalu company, operates180 stores in Illinois, Iowa and northwest Indiana.