Honey Bunches of Oats Sitcom Debuts on Mobile TV App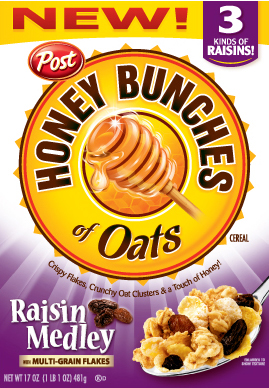 Post Foods LLC's Honey Bunches of Oats cereal now has a series available on Bitbop, a commercial-free, on-demand mobile TV service. The eight-episode original comedy program, directed by Drew Antzis of FunnyorDie.com fame, was written and produced by the Los Angeles-based branding, advertising and entertainment agency Omelet.
This month, more than 12 million Honey Bunches of Oats cereal boxes will offer free trials of the Bitbop service by directing consumers to scan the QR code on the back of the box with a mobile device. Consumers can view the "Honey and Joy" series, set in a Honey Bunches of Oats factory, online at www.Bitbop.com as well as via the mobile application m.bitbop.com. A series trailer is available at www.youtube.com/watch?v=xi3S8eHqCKM.
"At Post Foods, we are always looking for new ways to reach consumers of Honey Bunches of Oats, the third-largest brand in the cereal category," said Katie Lay, brand manager at Post, a subsidiary of St. Louis-based Ralcorp Holdings and also the manufacturer of Pebbles, Post Grape-Nuts, Post Shredded Wheat, Honeycomb, Post Great Grains, among other cereals. "Since they are active users of mobile entertainment, partnering with Jesta Digital's Bitbop initiative lets us give them fun, original content to entertain them wherever they are."
The application can be downloaded free to BlackBerry, Android, and Windows Phone 7 smartphones. In addition to watching the Honey Bunches of Oats series free on Bitbop, consumers can subscribe for access to commercial-free, premium content from top broadcast and cable providers.
"The Bitbop experience is about trailblazing new and inventive ways to enjoy entertainment on the go," noted Chris Hoerenz, CMO, Jesta Digital, a global entertainment provider with headquarters in London, Paris, Montreal and New York. "The opportunities for multiplatform marketing with Honey Bunches of Oats are truly innovative."
Starring Andree Vermeulen as "Honey" and Hope Banks as "Joy," the show also features Randee Heller of "Mad Men," Colton Dunn and Johnny Sanchez of "Mad TV," and Jeff Lewis of "The Guild," with an appearance in one episode by the band OK Go, whose members perform their song "White Knuckles."