Harrison Garners FMI MacManus Association Executive Award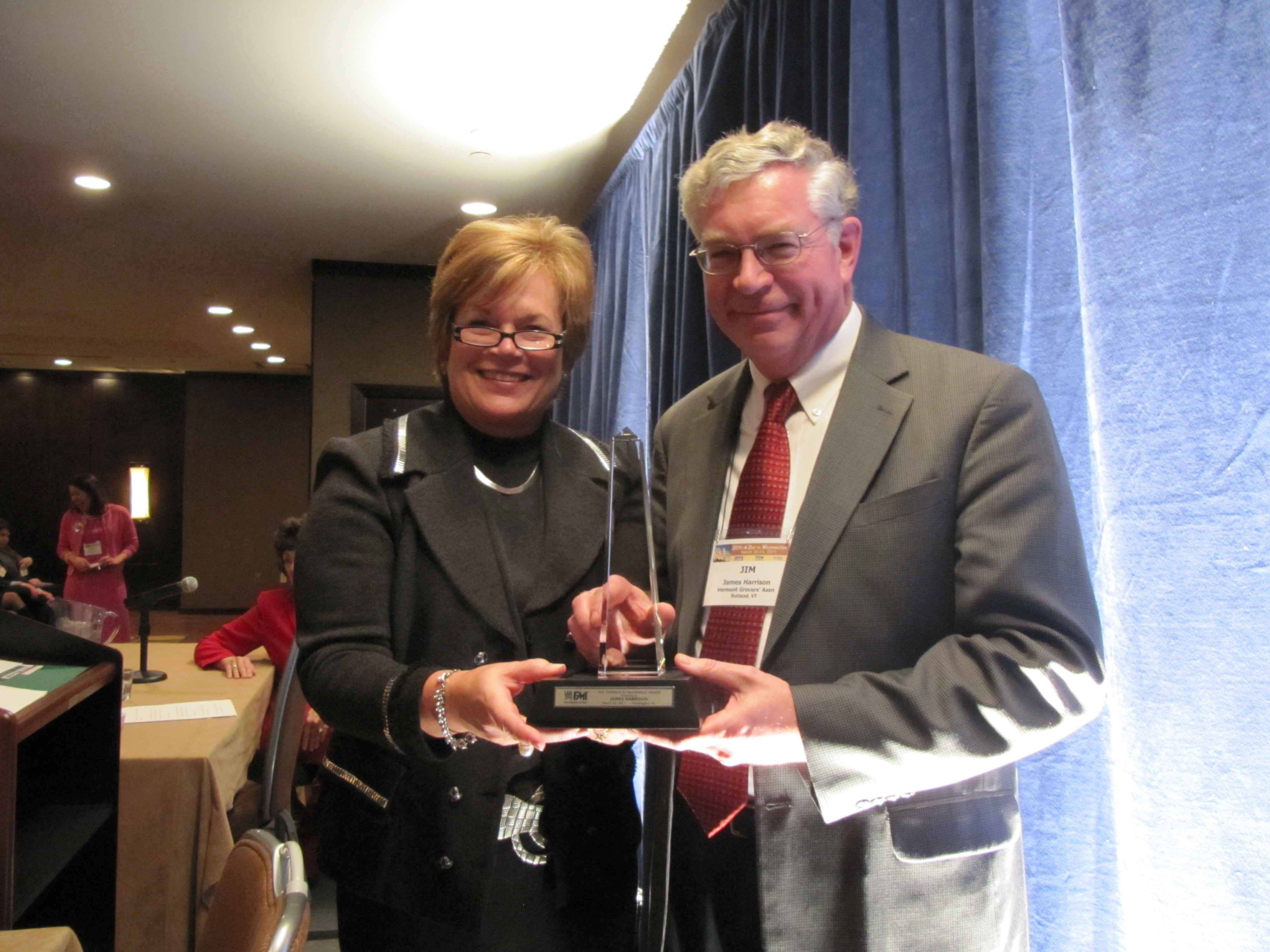 Vermont Grocers Association president Jim Harrison has received the Food Marketing Institute (FMI) Donald H. MacManus Association Executive Award for his professional skills, knowledge, and passion for the grocery industry, along with his dogged efforts in the legislative sphere.
The award was presented at the Washington Public Policy Conference hosted by the Food Marketing Institute (FMI), the National Grocers Association (N.G.A.) and Food Industry Association Executives (FIAE).
"Jim Harrison has been a compelling and effective industry advocate," noted FMI president and CEO Leslie G. Sarasin as she presented the award (see image above). "He has been a true soldier and leader in the debit and credit card interchange fee battle. It was through his association's hard work last year that the state of Vermont became the first state to pass an interchange bill that allows merchants to set minimum purchases for the use of credit and debit cards."
Harrison has headed the Vermont organization for nearly a quarter of a century, representing almost 700 retailers and more than 240 suppliers. In this role, he was won many victories for food retailers and small businesses, such as the defeat of a complex beverage tax and his ongoing endeavor to beat back the expansion of the state's bottle bill.
Dealing with vital issues like interchange fees has been a top priority for Harrison, who sought out and worked closely with stalwart grocery industry supporter Rep. Peter Welch (D-Vt.). Harrison is also behind the annual Taste of Vermont event held in the Senate Caucus Room on Capitol Hill, which gives the nation's lawmakers a chance to sample many of the state's unique delicacies.
The annually awarded Donald H. MacManus award, now in its 21st year, recognizes an association executive for extraordinary leadership in public affairs, industry relations and community relations. MacManus was the longtime executive director of the Rocky Mountain Food Dealers Association, as well as FMI's Western Region director and a member of the Colorado State Senate, where he rose to the position of Democratic whip.
In other FMI news, members of the Teamsters union and their allies, respresenting grocery and warehouse workers, protested outside the Public Policy Conference at  Washington's Hyatt Regency Hotel on March 30. The union claims that two of the organization's corporate members, C&S Wholesale Grocers and Royal Ahold " have been destroying hundreds of middle-class jobs up and down the East Coast by closing facilities and shipping jobs to low-wage warehouses in other states."
An FMI spokeswoman told PG that there were no disruptions during the protest, and that the conference was able to proceed.