Harris Teeter Unveiling Latest Signature Sub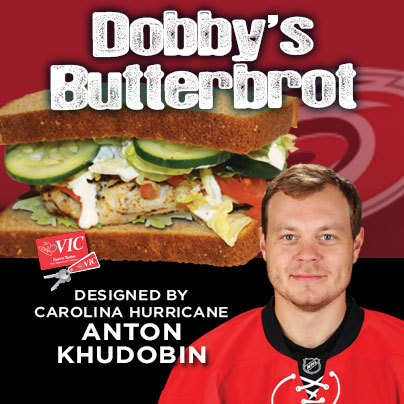 On Wednesday, Feb. 5, Carolina Hurricanes goalie Anton "Dobby" Khudobin and Harris Teeter will introduce Khudobin's personally designed Signature Sub Sandwich, "Dobby's Butterbrot," at the North Hills East store in Raleigh, N.C.
Retailing for $3.99, the sandwich features grilled chicken, lettuce, tomatoes, cucumbers and ranch dressing on wheat bread. Shoppers can make it a lunch pack, including Dobby's Butterbrot and a choice of one Chocolate Chunk, Macadamia Nut, Oatmeal Raisin or Cranberry Nut Cookie, for $4.99.
First Sandwich of the Season
The sandwich will be available in the Fresh Foods Market Sandwich Shop in all Raleigh-area Harris Teeter stores. During his appearance at the store, Khudobin will help sample Dobby's Butterbrot and also sign autographs.
Dobby's Butterbrot is Matthews, N.C.-based Harris Teeter's first Signature Sub Sandwich of the season.