Grocers Positioned to Embrace 'Next-Gen' Jewish Deli Dishes
Get great content like this right in your inbox.
Subscribe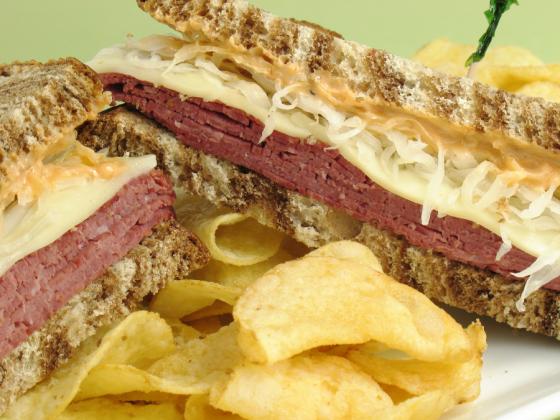 Those overstuffed pastrami sandwiches and ooey-gooey Reubens we associate with Jewish deli "cuisine" are having a moment. A big one, actually.
Andrew Freeman & Co.'s annual trends list named Jewish deli food as a 2018 top trend. Places like Steingold's, of Chicago; Wexler's Deli, in Los Angeles, Mamaleh's, in Cambridge, Mass.; Harry & Ida's Luncheonette, in the New York borough of Manhattan, and Frankel's, in neighboring Brooklyn are just a few examples of the revitalization of Jewish delis.
Consider this trend "next-gen" deli. Children of older-generation Jewish families – those who owned and operated delis, and others who grew up going to them – are opening their own, modern renditions. In fact, as next-gen delis open, some old-school institutions have closed, most notably, the Big Apple's Carnegie Deli, which shut its doors for good in 2016 after a 79-year run.
But brisket, bagels, matzo ball soup, lox and knishes live on. Grocerants are in a unique position to capitalize on some of the more classic dishes of the iconic Jewish deli. Most already have full-scale delis in operation, with their nearly endless varieties of meats, cheeses, breads and pickles, as well as all of the slicing and sandwich-making equipment needed.
All-in-one Eateries
We're also seeing newer Jewish delis take shape as part restaurant (full-service and fast-casual), part takeout, and part retail operation. Boston-based David DuBois and Phil Audino, of the Franklin Restaurant Group (Tasty Burger, Citizen Public House & Oyster Bar), have added Our Fathers as their latest concept. The new space showcases the restaurant-retail hybrid by featuring separate entrances for the two concepts under one roof.
Key Takeaways
"Next-gen" Jewish deli concepts are reinventing authentic fare.
Making corned beef and/or pastrami in-house is within reach for most grocers.
Grocerants should stock an array of specialty smoked and cured products.
Along with salty/savory offerings, grocerants should offer traditionally inspired sweets.
"Many people have fond memories of Jewish deli food, and why wouldn't they? It is rich and delicious, replete with history, warmth and depth," says DuBois, who found inspiration for the concept from his father's love of traditional delis. "The Jewish food we are most familiar with is only part of the story, however."
On the deli side of Our Fathers, the all-day operation serves items like hand-cut-to-order pastrami sandwiches, fresh bagels, smoked salmon matzo ball soup and roasted za'atar-spiced chicken dinners with potato pancakes, hummus, salads and other sides, all ready to-go for a full family meal or catering order.
Upgrade Catering platters with Traditional Jewish Influences
Catering is an important part of Jewish deli operation. Boston-based deli concept Our Fathers — and it's not alone — caters everything from sliced corned beef to bagel and lox with all of the fixings, including cream cheese, pickles, sliced raw red onions, capers, sliced cucumbers and tomatoes.
These are the types of platters old-school Jewish delis have offered for decades. Grocerants that already feature, or that choose to add, some traditional Jewish deli fare to their repertoire can easily recreate these catering conventions for yet another profit-boosting move. Now that's something to nosh on.
Our Fathers specializes in traditional, hearty deli fare influenced by the cooler climates of the Eastern European origins of Ashkenazi Jewish cuisine. Ingredients like gribenes (crispy chicken skin) and knish (meat- and vegetable-filled dough balls) are among the specialties.
Meanwhile, the restaurant side of the eatery serves fresh, spicy Sephardic and Mizrahi Jewish cuisine inspired by Israeli, Middle Eastern and North African flavors. These are deep, complex and warm spice profiles from recipes like markouk (flatbread) layered with labne (yogurt cheese), radishes, schug (a chimichurri-like Israeli condiment made with parsley, cilantro, chiles and spices) and za'atar, a Middle Eastern spice blend. There's also lamb on cinnamon sticks, and duck breast with cabbage braised in a pickled mango condiment called amba.
Deli Specialties
For grocerants looking to expand their deli selection to include traditional Jewish favorites, one trick is just to pile meats higher on sandwiches. Another must-have is a go-to Reuben recipe tasty enough to generate buzz and profits: House-fermented sauerkraut and Russian dressing are two ways to make a signature version. Making corned beef and/or pastrami in-house is within reach at most groceries, especially those equipped with the large-production kitchens and high-volume equipment needed to make a big batch of brine or authentic chicken stock for matzo ball soup.
At Our Fathers, beef brisket is brined for 14 days, and then smoked; rubbed with spices like black pepper, rosemary, coriander and cardamom; cooked; and wrapped and cooled down.
"We do not cook it for service until days later, when we use a long, slow steam to rethermalize and tenderize the meat," explains DuBois. "It needs to be chilled down first, or it just doesn't taste as good."
The restaurant's corned beef is a nine-day brine, followed by slow cooking in an industrial or controlled vapor technology (CVap) cabinet. This meat also is wrapped and cooled, but rethermalized for slightly less time and at a lower temperature than the pastrami. Corned beef is typically trimmed to be leaner, and a shorter rethermalized time avoids dryness. To-go sandwiches are wrapped in brown butcher paper to lock in heat and flavor before being bagged up.
Our Fathers has also become known for its "burnt ends," a collection of the extra cuttings of pastrami and corned beef from parts where crispy crusted pieces collect.
"Our general manager is from the Midwest and has very fond memories of the burnt ends at Slyman's Deli, in Cleveland, Ohio," says DuBois. "We sell quarts of them on a first-come, first-serve basis, as they accumulate. People take them home to put in their eggs or hash or whatever."
Smart Outsourcing
Bagels, another hallmark of Jewish delis, might prove to be a little trickier to make in-house for grocerants. Traditional forms require boiling first, then baking, and as DuBois describes, they can be label-intensive.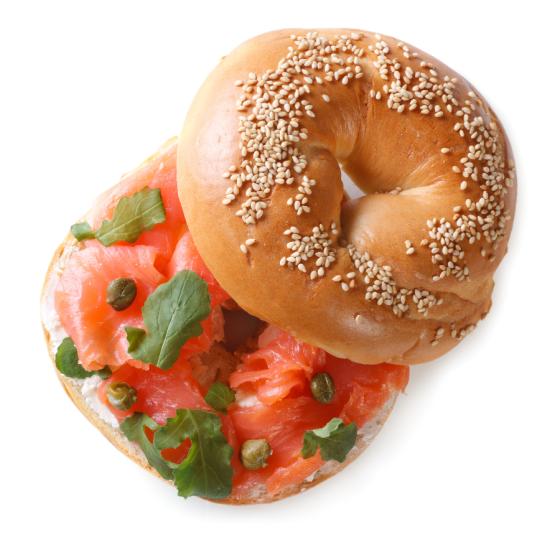 "When we first started planning the concept, our thought was to make our own bagels in-house," he recounts. "We studied the process and arrived at the method that worked best for us. We picked out our proprietary oven, broiler and seeding table before it became apparent that the kitchen in our restaurant would not have the space for this setup."
What followed was a deep exploration of recipes, facilities and independent bagel makers until DuBois found one that could make the best bagel. He and his team chose ones that are chewy and on the softer side, with a polished exterior and a light interior. They're hand-rolled, boiled, baked on damp burlap-covered boards to start, and then flipped onto a stone deck. The bagels are kept warm using halo heat warming, and then toasted to order in a vertical toaster. Our Fathers also works with a local artisan baker to source twice-baked rye bread as a sturdy yet soft base for sandwiches.
The Magic of Everything and Lox
Steingold's, a modern Jewish deli in Chicago, features sit-down fast-casual service and a takeout/retail component. This eatery also sources bagels from a local baker who specializes in slightly crispy, distinctly chewy plain and "everything" bagels. And speaking of Jewish deli influences, the flavors of "everything" bagels have become so craveable that this mixture of salt, pepper, garlic salt and sesame seeds, among other savory spices, has become a favorite for chefs and home cooks who sprinkle it on just about, well, everything.
Monrovia, Calif.-based Trader Joe's introduced its version of the "everything" spice blend last February, and suggests adding its "crunchy, roasted, savory flavor to grilled chicken, buttered popcorn, baked potatoes, creamy dips, pizza dough, salad dressings, pasta, mac & cheese, or panko-breaded anything," according to a product description.
Another Jewish deli standard is lox. In terms of in-house preparation, curing whole planks of salmon is one thing, but smoking salmon for lox can also require more labor and space than many operations can afford. This is another ingredient that's easily and expertly outsourced. Our Fathers works with a 120-year-old smoke-cure house in Brooklyn, N.Y., to source whole planks of lox that are hand-sliced to service. Grocerants are in a prime position to stock an array of specialty smoked and cured products showcasing regional flavor variations, different techniques and modern innovations.
Jewish delis definitely know how to pile on the salty-savory flavors, but don't forget those ubiquitous smiley-face or black-and-white sugar cookies, or chocolate-chip-studded mandel bread (think: biscotti) to round out your service.