GPI Unveils 2011 Clear Choice Awards Winners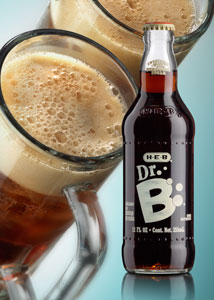 The Glass Packaging Institute (GPI), the trade association representing the North American glass container industry, has revealed the winners of its 2011 Clear Choice Awards. Sponsored by GPI since 1989, the awards honor consumer product goods (CPG) manufacturers who use glass containers in innovative ways.
This year's awards recognize 10 CPG companies' achievements in expanding the frontiers of glass packaging design in the categories of beer, wine, food, carbonated beverages, noncarbonated beverages, organic foods/beverages, distilled spirits, flavored alcoholic beverages (FAB), cosmetics/fragrances and conversion recognition (products that have been converted to glass packaging from other types of packaging).
The winners are:
Beer: Boulevard Brewing Co. for Tank No. 7 Farmhouse Ale
Wine: Jackson Family Wines for Freemark Abbey 125th Anniversary Blend
Food: Kensington & Sons LLC for Sir Kensington's Gourmet Scooping Ketchup
Carbonated Beverages: H-E-B for H-E-B Dr. B (Pictured)
Noncarbonated Beverages: Kyäni Inc. for Kyäni Sunrise
Organic Foods/Beverages: TruBee Honey for TruBee Honey
Distilled Spirits: Finlandia Vodka Worldwide Ltd. for Finlandia Vodka
Flavored Alcoholic Beverages: American Vintage Beverage Co. for Calypso Bay Spritz
Cosmetics/Fragrances: Oscar de la Renta for Espirit D'Oscar
Conversion Recognition: Traders Point Creamery for Traders Point Creamery Cottage Cheese
"These winning package designs demonstrate that glass continues to be the 'clear choice' for consumers who want a package that complements today's healthy and environmentally-conscious lifestyles," said Lynn Bragg, president of Alexandria, Va.-based GPI, noting that glass is one of the most sustainable packaging choices, being 100 percent and endlessly recyclable. "Additionally, nothing communicates purity, quality and value to consumers like a well-designed glass package," she observed.
All 2011 Clear Choice Awards winners will receive an award, along with industry-wide recognition and brand building media coverage. All of the winning products will be displayed at PACK EXPO 2011, which will take place in Las Vegas, Sept. 26-28. Further, the winner of this year's Clear Choice Awards' People's Choice will be revealed at the events. Votes for the 2011 nominees can be cast at www.Facebook.com/ChooseGlass  through Sept. 23.
Submissions for the 2011 Clear Choice Awards were judged according to innovation (in container form and product category), package design (including container, label and closure), and shelf impact.