Goya Honoring Roberto Clemente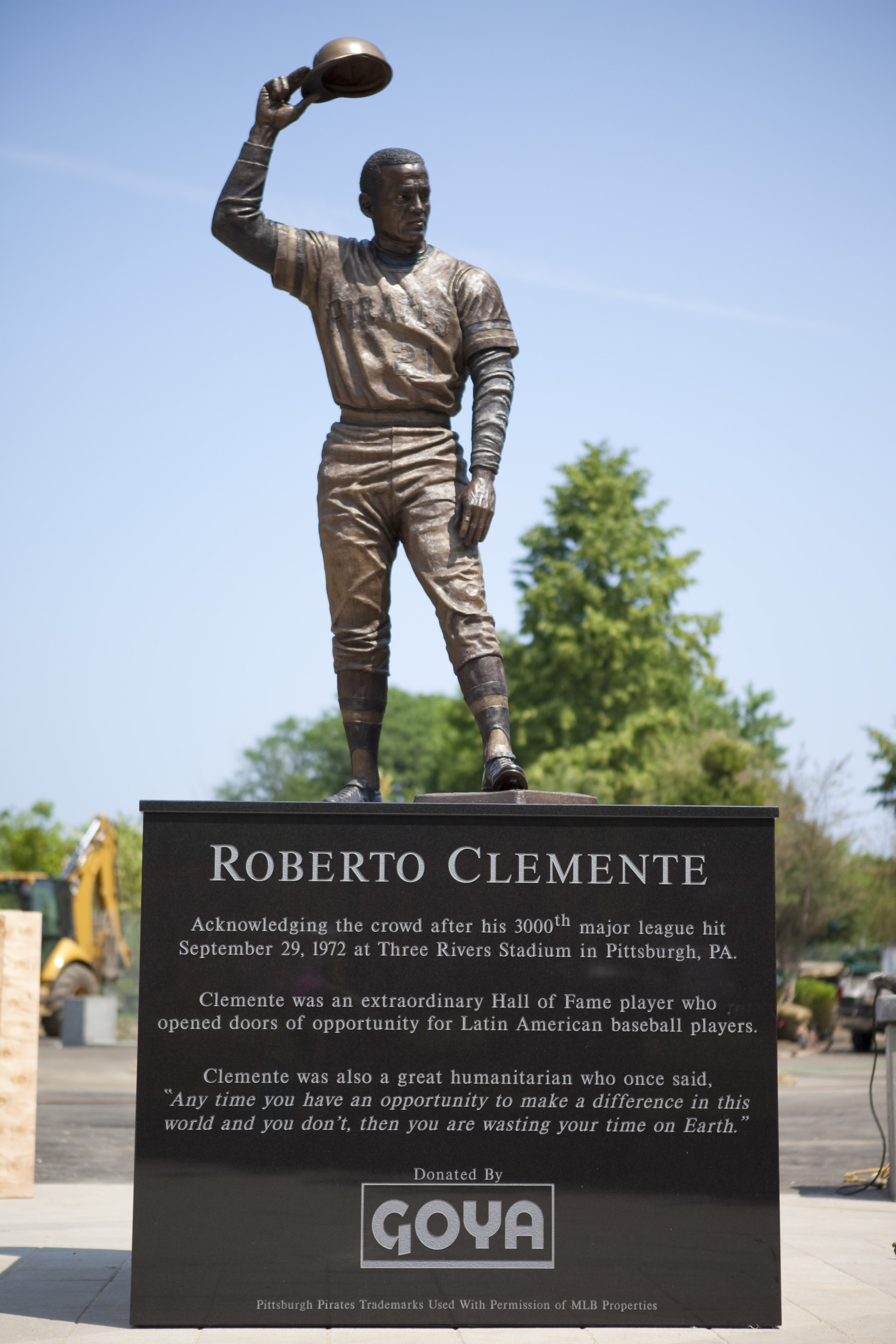 Goya Foods will pay tribute to the lifetime achievements of Roberto Clemente to mark the 40th anniversary of his induction into the Baseball Hall of Fame, with the unveiling of a life-size bronze statue at Roberto Clemente State Park, in the Bronx, on Thursday, June 27.
The Goya-commissioned and -donated statue (left), sculpted by Maritza Hernandez, weighs about 3,000 pounds and stands on a 4-foot granite pedestal. It portrays one of Clemente's most memorable career moments: acknowledging fans after his 3,000th hit. Located at the front entrance of the 25-acre public park, the statue is the first of a Puerto Rican celebrity to be constructed in New York City.
As well as winning renown as a baseball player during 18 seasons with the Pittsburgh Pirates, Clemente was revered for his humanitarian work, which included helping people in Puerto Rico and other Latin American countries. He was killed in a plane crash on Dec. 31, 1972, while en route to deliver aid to earthquake victims in Nicaragua.
"The story we share is as much about achieving the American dream as it is about helping to cultivate and preserve the richness of the Latin culture and people in the United States," said Bob Unanue, president of Secaucus, N.J.-based Goya, the largest Hispanic-owned food company in the United States. "Roberto Clemente will always be remembered in our hearts, and we hope that his spirit of giving will encourage and inspire others to do the same."
"The life of Roberto Clemente is an inspiration to us all, and particularly to those of us at Roberto Clemente State Park, where we celebrate and honor the legend's accomplishments by striving every day to offer the community a safe and inviting open space for play, recreation and respite," added Rose Harvey, New York State Office of Parks, Recreation and Historic commissioner.
Also celebrating its 40th anniversary, the park offers a variety of recreational and cultural activities year-round, and includes a multipurpose recreation building, an Olympic-size pool complex, ball fields, basketball courts, picnic areas, playgrounds and a riverside promenade.