Gorny Appointed CPS Technical Committee Chair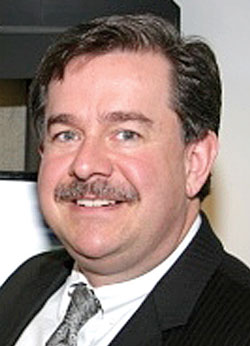 Dr. Jim Gorny, VP of food safety and technology at the Produce Marketing Association (PMA), has been named chair of the Center for Produce Safety (CPS) Technical Committee by Steve Patricio, chair of the CPS board of directors. Gorny succeeds Dr. Bob Whitaker, PMA's chief science and technology officer, who has chaired the committee since 2008 and will retain his position on the CPS board.
According to CPS, the appointment enables it to maintain the benefit of Gorny's wide knowledge of food safety, while providing Whitaker the opportunity to spend more time identifying and translating existing and emerging science and technology into useable industry solutions for PMA members.
"Jim has served as a CPS board and Technical Committee member since our founding, providing CPS an opportunity to tap into his extensive knowledge of food safety, industry practices and produce safety public policy," noted CPS executive director Bonnie Fernandez-Fenaroli. "He's certainly no stranger to CPS and food safety, and his oversight of the Technical Committee leaves the center and the industry in excellent hands."
Gorny (above) was previously executive director of UC Davis' Postharvest Technology Research and Information Center. Before his recent move to Newark, Del.-based PMA, he was senior advisor for U.S. Food and Drug Administration's Office of Food Safety, in which he advised on policies and programs affecting the safety of fresh produce.
"Jim has built a career around pushing the ball forward on produce safety by strongly advocating for and developing science- and risk-based food safety industry programs and public policy, a commitment shared by PMA," observed Whitaker. "His transition to Technical Committee chair furthers this goal while also allowing me to dedicate more time to the tremendous work that still needs to be done for PMA members in the vast area of science and technology, which extends beyond food safety to also include such areas as supply chain efficiencies, seed technology, processing and packing innovations, and data management methodologies."
During his tenure as Technical Committee chair, Whitaker helped CPS establish a framework for annual grant-funded research that has resulted to date in CPS's granting more than $10.6 million to fund 70 projects at 26 institutions in 17 U.S. states and three countries. The CPS Produce Research Symposium reports yearly on center-funded research.
"Bob has done a tremendous job not only in helping to get CPS's research grant program up and running, but also in helping us concentrate our limited resources on research areas needed most," added Fernandez-Fenaroli.
In his new role, Gorny will work with the CPS executive director and the committee to identify, fund, translate and provide industry with high-priority, impactful produce safety research solutions that improve produce safety for industry and consumers alike. The Technical Committee reports to the CPS chair and the board. To date, PMA's contributions to CPS total more than $3 million, and half of Gorny's time will be devoted to CPS as Technical Committee chair.
"PMA's members are so well served by the unmatched insight and experience brought to food safety by Drs. Bob Whitaker and Jim Gorny on our staff team," said PMA president and CEO Bryan Silbermann. "Bob has done wonders in his role of CPS Technology Committee chairman and has laid a strong foundation. He'll remain active on the CPS Board and the Technical Committee. With Jim running the committee, Bob will increase the added value we deliver to our members as translator and educator – a role in which he excels."