Giant-Landover, Safeway Workers Ratify Contract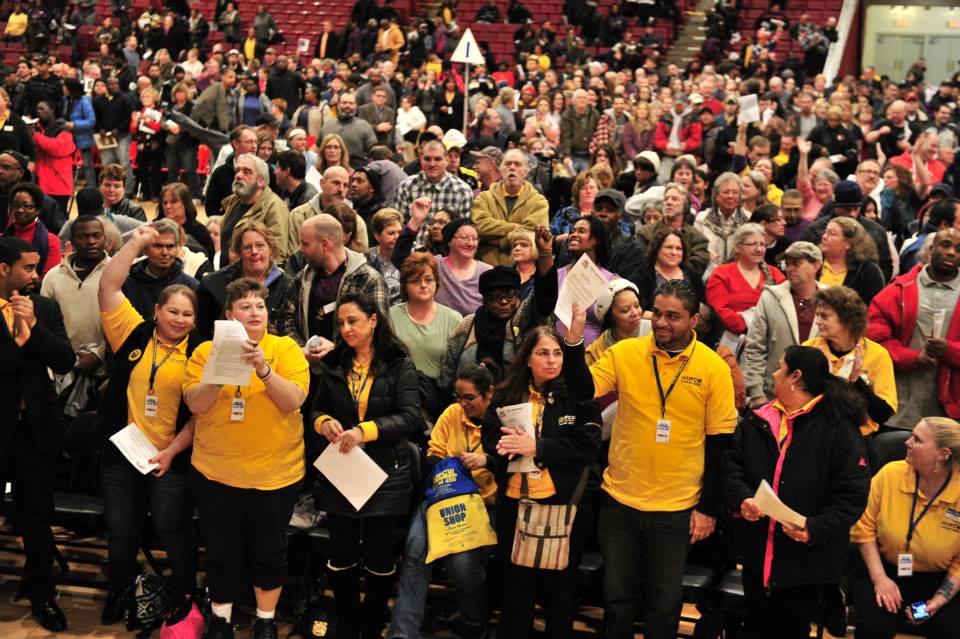 Members of United Food & Commercial Workers (UFCW) Local 400 have voted to ratify a new three-year collective bargaining agreement with Giant-Landover and Safeway that the union says preserves workers' health and retirement security and ups their wages.
Negotiations were slowed by the complications and added costs imposed by the Affordable Care Act (ACA), but eventually both sides were able to craft a mutually satisfactory contract. According to Local 400, it's one of the few collective bargaining agreements reached in the retail food industry this year that continues employer-provided health care coverage for all current and most future employees. The contact also ensures that the grocers will contribute whatever amount necessary to the health care fund to pay all benefits.
"This is one of the best retail food contracts in the country," asserted Local 400 President Mark P. Federici. "Unlike many other agreements, our members will keep their current health care benefits and won't be forced onto the inferior plans offered through the ACA's health care exchanges. Giant and Safeway will pay all benefits in full through the life of the contract and our members' pensions will be properly funded."
Federici added that "the collective bargaining agreement increases our members' standard of living, and it's one of the few contracts in the country providing all of its economic benefits in the form of hourly wage increases rather than a one-time bonus." He attributed the contract's terms to the "activism" of members, who held rallies, leafleted stores, gathered shopper pledges, participated in flash mobs, turned in their own pledge cards, and sought the support of other unions, local politicians and community groups.
Market Dominance Assured
Over the course of the contract -- which is effective retroactively as of Nov. 1, expires on Oct. 29, 2016, and covers 17,000 workers -- members will receive an average of $3.35 an hour in additional compensation, including wage increases, and health, pension and other benefits. The previous contract was extended twice as negotiators struggled to hash out a new agreement acceptable to both sides.
"This contract will enable Giant and Safeway to maintain their dominance as the No. 1 and No. 2 retail food chains in the Washington metropolitan area, while doing right by the workers whose productivity and customer service have lifted them to the top," Federici said.
Local 400 represents 40,000 members working in the retail food, health care, retail department store, food processing, service and other industries in Washington, D.C.; Maryland; Virginia; West Virginia; Ohio; Kentucky; and Tennessee.