fresh&easy Goodness Products for Kids Launched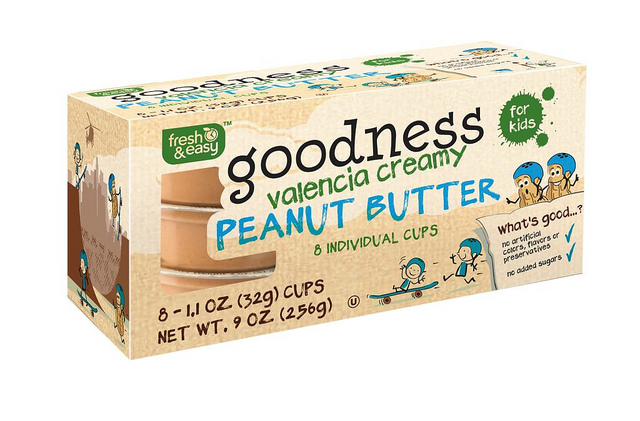 During a celebration of the opening of three Fresh & Easy stores in San Diego County this week, the chain introduced fresh&easy Goodness, a line of better-for-you products aimed squarely at kids. Joining Fresh & Easy CEO Tim Mason for the launch were Herb K. Schultz, Region IX director of the U.S. Department of Health and Human Services; San Diego Mayor Jerry Sanders; and Cheryl Moder, San Diego County Childhood Obesity Initiative director.
"We applaud Fresh & Easy's efforts to promote more food options so that all different types of neighborhoods have access to affordable, healthy food," said Schultz. "Last week, our partnership with the League of California Cities and the First Lady's 'Let's Move!' campaign resulted in California's cities unanimously approving a resolution in support of ending childhood obesity within a generation. Making sure that neighborhoods have access to better food options are pivotal to this effort."
In common with all of the chain's food offerings, fresh&easy Goodness items, which will arrive stores this month, contain no artificial colors, flavors or preservatives; no added trans fats; and no high-fructose corn syrup. The El Segundo, Calif.-based division of U.K. grocer Tesco also worked to limit the amount of sugar, sodium, and fat in fresh&easy Goodness products, and has made sure that they contain no artificial sweeteners and no added caffeine.
"We fundamentally believe every family deserves access to fresh, wholesome food at affordable prices," noted Mason. "Everything we do derives from listening to our customers, and one thing we've heard consistently from parents is that they are looking for ways to feed their children high-quality, nutritious foods without stretching their budgets. fresh&easy Goodness for kids offers an affordable and convenient solution for busy parents that won't break the bank."
The products, which are made with whole grains, fruits, vegetables, and other ingredients that are good sources of vitamins and minerals, include kid-pleasing breakfast cereals and macaroni and cheese, as well as easy-to-prepare microwavable meals and individually packaged snacks.
Fresh & Easy operates 168 stores in California, Arizona and Nevada and employs more than 4,000 employees.