Fresh Thyme Unveils Launch Plans
A new player is set to enter the natural food retail market in a big way. Phoenix-based Fresh Thyme Farmers Markets will open more than 60 new stores and create approximately 5,000 new jobs throughout the Midwest over the next five years. 
President and CEO Chris Sherrell, a long-time industry leader who spent a decade at Wild Oats Market and became the president and CEO of Sunflower Farmers Market, leads the start-up natural food retailer.
Fresh Thyme's first location will open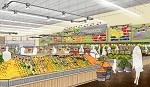 in Mt. Prospect, Ill., this spring, followed by eight more grand openings throughout 2014. The 23 announced openings in 2014-2015 include stores in Illinois, Indiana, Michigan, Minnesota, Missouri, Ohio and Wisconsin.
The concept "will be a completely new grocery format for the Midwest," said Sherrell. "We've taken the experience of an outdoor farmers market and combined it with the convenience of a full-service grocery store. Shoppers will enjoy value priced natural and organic items throughout our store, making healthy food more attainable to the masses."
"Our markets answer the Midwest's demand for fresh, healthy, natural and organic food, all at great prices, in a convenient and inviting format," added Sherrell. "We're excited to bring the farmers market concept to the area and create 5,000 new jobs in the next five years."
A Focus on Local
The heart of Fresh Thyme's 28,000-square-foot stores will be produce, including locally sourced and organic fruits and vegetables. Additional features of the markets include:
Over 400 bins of natural and organic bulk items and small batch locally roasted premium coffee beans
A butcher shop featuring all-natural handmade sausage made daily in-store, offering more than a dozen varieties
Specialty items such as gluten-free foods and dairy-free products
A full dairy section, which sources local Midwest items
Healthy prepared salads and meals as well as a full salad bar, made-to-order sandwiches and a bakery featuring artisan breads
Hops & Grapes department with wine and local craft beers
More than 7,000 varieties of vitamins, supplements and natural body care products