Former A&P Workers Rally at Big Y Store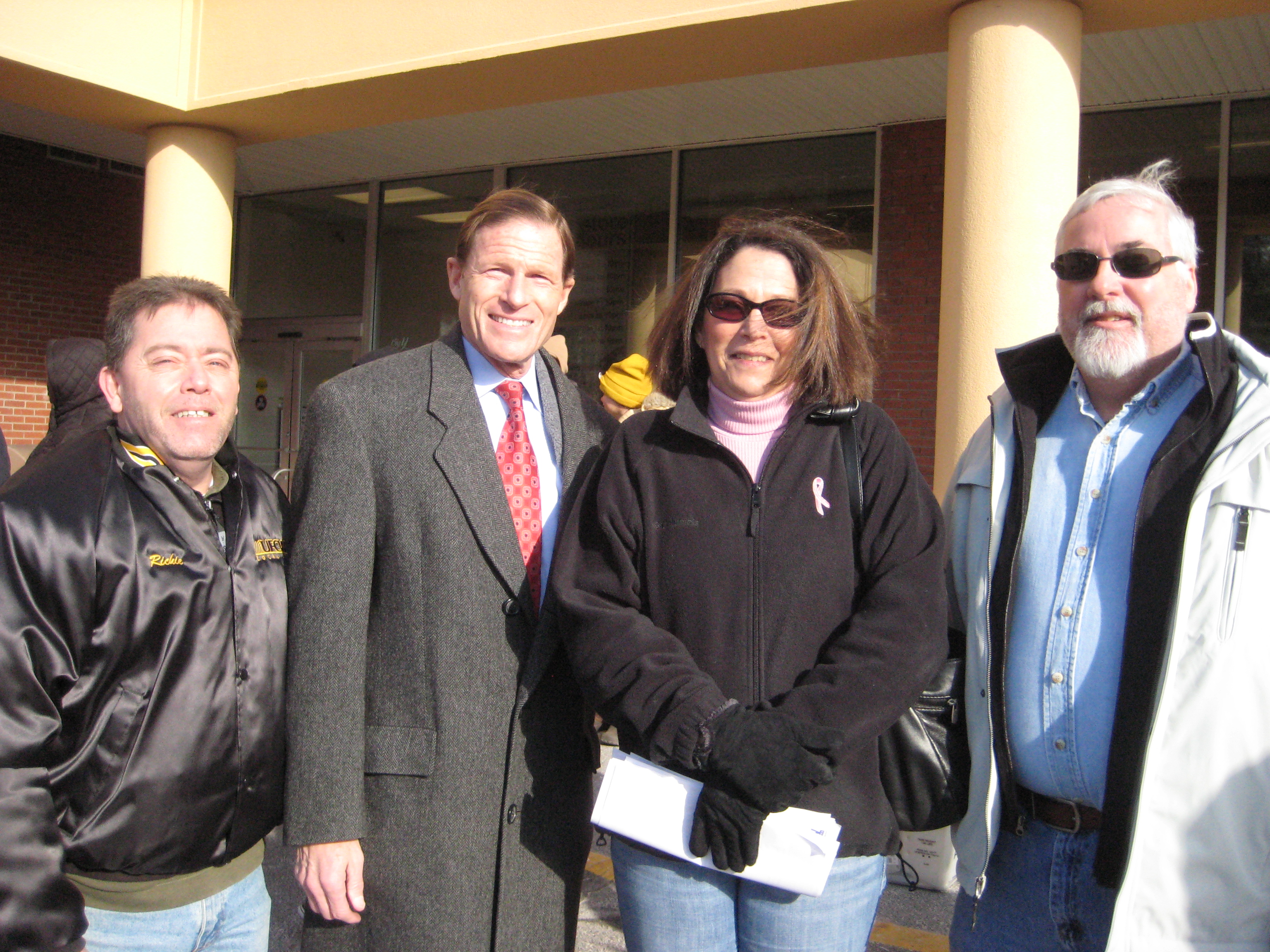 Former A&P workers, joined by United Food and Commercial Workers Union (UFCW) Local 371 staffers and supporters such as Connecticut attorney general and U.S. Sen.-elect Richard Blumenthal (D.-Conn.)  (pictured second from left), gathered this week at a Big Y store in West Hartford to protest the grocer's decision not to rehire what the union said was "most" A&P associates when it acquired seven Nutmeg State stores that used to operate under the A&P and Waldbaum's banners.
The "Rally to Ask Big Y for a Commitment to Community," held at noon on Dec. 22, requested that the Springfield, Mass.-based company rehire the out-of-work employees, as well as provide jobs for local residents that pay a living wage and offer good benefits.
"We invited every A&P/Waldbaum's employee to apply for work for Big Y," the grocer said in a statement sent in response to a query by Progressive Grocer. "During the month of October, our four hiring sites interviewed over 2,500 applicants for positions at Big Y throughout the state. We interviewed nearly every former A&P/Waldbaum's employess who applied, close to 450 applicants. Some former A&P/Waldbaum's employees applied but did not respond to our request to schedule an interview. Big Y even asked A&P/Waldbaum's for better contact information for its former employees who did apply so that we could contact them again."
When it comes to hiring associates, "Big Y evaluates all applicants based upon our World Class hiring standards,"  the company explained, noting that this process ensured "a consistent and high level of service" at its stores. "We are delighted that so many former A&P/Waldbaum's employees have chosen to work at Big Y." The grocer didn't say how many associates from the acquired stores were now working for Big Y.
Although she noted that the union was still double-checking figures, UFCW spokeswoman Audra Makuch told PG that about 700 people lost their jobs when the stores were sold to Big Y, but that less than 10 percent had been rehired.
The transaction between Big Y and Montvale, N.J.-based A&P closed Nov. 1. Four of the stores have already opened as Big Y stores, with the remaining three scheduled to resume operations early next year.