FMI MIDWINTER: Retailers Score with Family Meals
Get great content like this right in your inbox.
Subscribe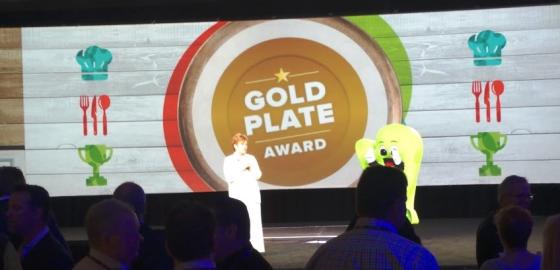 The Food Marketing Institute (FMI) Foundation announced the winners of its  2017 Gold Plate Awards this evening at the foundation's annual fundraising event, Stir It Up!, held at the FMI Midwinter Executive Conference this past weekend in Miami.
The awards highlight the creative ways the food industry is championing the power of family meals.
The Gold Plate Awards recognize retailers, suppliers and community collaborators who have creatively executed a National Family Meals Month campaign in September. The goal of the program is to encourage shoppers to share one more family meal together each week using items from the grocery store.
Additionally, retailers and trading partners were recognized for their creative menu creations prepared and sampled for the attendees of the Sunday-night event.
"In three short years, the National Family Meals Month movement has grown from a social media conversation to in-store application and now to an omnichannel shopper experience by sharing family meals solutions online, in-store and throughout the community," said Sue Borra, RD, chief health and wellness officer for FMI and executive director of the FMI Foundation. "Our Gold Plate Award winners have stepped up to the plate to provide creative and easy solutions for family meals at home.  The FMI Foundation is proud to recognize innovation in family meal solutions across the food retail industry."
2017 Gold Plate Award Winners
Gold Plate Award Category:  Retailer 1 – 99 stores
Skogen's Festival Foods
Program: Festival Family Meals: $10 Meals
Festival Foods successfully created a comprehensive omnichannel campaign to promote National Family Meals Month through their $10 Meals program. Its 360-degree approach involved meeting guests, associates and consumers in the stores where they shop, on social media, via traditional media as well as during presentations in the community. Festival Foods collaborated with industry partners to spread the family meals message including the American Heart Association; Fruits & Veggies – More Matters; area celebrities from The Better Half (a lifestyle TV show hosted by wives of Green Bay Packers players); a statewide radio show Wilde & Tausch on ESPN; and with local WFRV-TV's morning talk show. Grocery store tours were offered throughout the month in partnership with healthcare systems, community groups and universities. The campaign produced measurable results, including 418 guests redeeming a family meals month offer from their mobile text club over the course of two days.
Gold Plate Award Category:  Retailer 100 – 199 stores
SpartanNash
Program: Family Meals Month!
SpartanNash celebrated family meals across their with a comprehensive and creative omnichannel experience. They used print advertisements, online blog content, social media content and the National Family Meals Month logo on produce sign inserts. In-store, store associates offered families seen shopping together oven mitts, cans of Our Family soup, and a flier about Family Meals Month. Community outreach included food demos, cooking classes and a health fair in partnership with the YMCA, healthcare store tours and state grant funded partner events. In-store associates were invited to participate in a video about their favorite family meals moments and corporate-level employees received Family Meals Month information through the employee health and wellness program. The SpartanNash campaign reached over 5 million people through social networks and various ads.
Gold Plate Award Category:  Retailer 200+ stores
The Kroger Co.
Program: We're in! Kroger bringing families together for National Family Meals Month
Kroger's National Family Meals Month campaign reached over 1 million shoppers through a mixture of omnichannel engagements. Its campaign had a strong focus on their registered dietitians (RDs) and Little Clinic solutions and included a Twitter Chat with Little Clinic RDs; a Facebook Live education series by Little Clinic RDs; in-clinic education by clinicians and pharmacists utilizing a Family Meals Month educational brochure; a live TV broadcast with an RD highlighting Kroger's offerings for nutritious and timely family meals; in-store nutrition outreach; free RD personal shopping services; and an "Inspired Gathering" page on Kroger.com featuring numerous Family Meals Month recipes, family meal conversation starters, clean-up tips and educational resources (i.e., teaching kids to set the table).
Gold Plate Award Category: Wholesaler
Associated Wholesale Grocers Inc.
Program:  AWG Brands Family Meals Month Campaign
Associated Wholesale Grocers' (AWG) campaign included collaboration between all AWG brands (Best Choice, Clearly Organic, Superior Selections, and Always Save), which published educational content on all brands' social media pages and websites. All brands fully adopted the Family Meals Month theme for September, changing website sliders, social media profile pictures, and cover photos to display Family Meals Month messaging. All AWG retailers were informed of the campaign and encouraged to share materials with their consumers. Internally, employees were educated on the benefits of family meals with announcements on company TVs.
Gold Plate Award Category: Supplier
Campbell Soup Co.
Program:  Campbell's Family Meals Partnerships: Helping Families Eat Together
Campbell's Helping Families Eat Together program included a partnership with a national food retail chain, employee engagement and saw sales increase on promoted products. In addition to using omnichannel tactics, Campbell produced a heartwarming digital ad featuring one of their product lines and the importance of eating together. Collaboration with a national retailer and the Retail Dietitians Business Alliance provided solutions to common barriers of eating meals together. Internally, Campbell's Global Nutrition team and Consumer Test Kitchens partnered to promote Family Meals Month and reached 10,000 employees across the company with weekly nutritious recipes and family meal solutions. Most impressively, over 130,000 coupons and handouts distributed with the Family Meals Month logo and Pace Salsa mealtime recipe inspiration resulted in a 4 percent increase in Pace Salsa sales.
Gold Plate Award Category:  Allied Group
American Heart Association
Program: Healthy For Good: Eat Smart and Add Color
The American Heart Association's Healthy For Good: Eat Smart and Add Color campaign sought to help people make simple, healthy decisions while creating sustainable habits. Campaign communications like a Healthy For Good e-newsletter pointed to a custom landing page with family meal resources. Consumers were encouraged to create their own "Recipe Box" online to start saving healthy meals for National Family Meals Month. The campaign leveraged multiple national and local American Heart Association social media channels and digital networks to spread the Family Meals Month message, reaching approximately 1 million consumers.
In addition to the six award winners, the following seven companies received honorable mentions for their 2017 National Family Meals Month campaigns:
Baesler's Market - Make Meal Time Family Time (with Help from Baesler's)
Coborn's Inc. - Coborn's Celebrates Family Meals Month
Hannaford Supermarkets - Time-Saving Meals from Your Hannaford Dietitian/Good Ideas for Busy Families
Tops Friendly Markets - #FamilyMealsMonth
Hy-Vee Inc. - Hy-Vee's National Family Meals Month Campaign
W. Lee Flowers and Co. Inc. - IGA Raise Your Mitt to Commit Family Photo Contest
The Coca-Cola Co. - The Coca-Cola Family Meals Program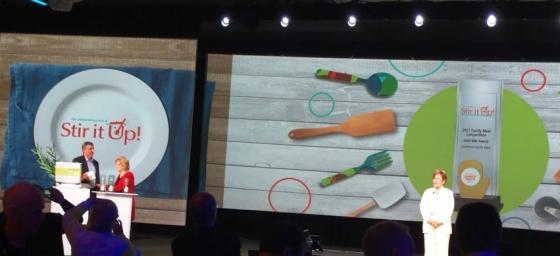 Gold Mitt Awards
The following companies were honored for their creative recipe efforts, whipped up at served to the attendees of the Stir It Up event at FMI Midwinter:
Healthiest Family Meal: The Coca-Cola Co.
Easiest Family Meal: Wakefern Food Corp.
Most Affordable Family Meal: Pepsico
Best Culinary Adventure Family Meal: Wakefern Food Corp.
Easiest Family Meal: Hy-Vee Inc.