01/28/2018
FMI MIDWINTER: All Signs Point to Solutions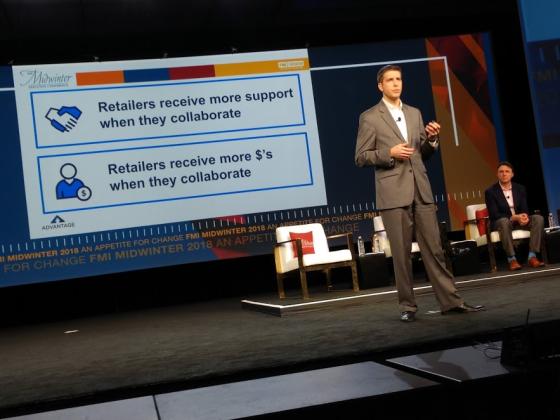 "An Appetite for Change" was the theme bestowed upon this year's Food Marketing Institute Midwinter Executive Conference, but seeing how our industry is evolving, retailers and their trading partners had better stay hungry for a good long time.
"Disruption" is no longer just a buzzword, and concepts like collaboration and connectivity have become table stakes in a game that seems to change by the day. You've got to be nimble, willing to experiment, ready to take risks.
In the words of Midwinter Chairman Mark Skogen, president and CEO of De Pere, Wis.-based grocery chain Festival Foods, if you don't like change, you'll really hate irrelevance.
"What is that mom purchasing on her phone while waiting to pick her kids up from school?" Skogen posed to attendees at the conference, held Jan. 26-29 at the National Doral resort near Miami. "We don't know, and it scares us."
Further evidence of the pace of change: Chris Morley, president U.S. at Chicago-based Nielsen, offered research showing that up to 80 percent of American consumers could be buying groceries online within the next five to seven years, rather than 10 years, as previously projected.
Success stories like Ocado in the United Kingdom suggest that scenario could very well play out. Tim Steiner, CEO of the world's largest pure-play online home-delivery grocery retailer, offered attendees a peek at Ocado's highly automated operation, which generates more than $2 billion in sales in the most competitive online grocery market. Watch for Ocado's influence to emerge closer to home, as it's entering into a partnership with Canadian grocer Sobeys.
As The NPD Group's David Portalatin noted of grocery ecommerce's tipping point: "We're past it."
Portalatin was right on the money in his urging retailers to be solution providers: "The No. 1 question you need to answer is, what's for dinner?"
And increasingly, those asking that question will be the up-and-coming Generation Z, today's teens who are consuming more of the top three special food labels – organic, non-GMO and gluten-free – and driving the idea that clean eating is healthy eating.
That opens opportunities for merchandising solutions in the fresh perimeter, where more than half of the growth in food and beverage is taking place, noted IRI's Larry Levin and Sally Lyons Wyatt. Fresh food – or, perhaps more persuasively, a fresh experience – is an edge that traditional grocers have over etailers. Also, grocers need to leverage outreach to their shoppers, like teaching them how to prepare food that's convenient to buy, Levin added.
Speaking of GenZ: This demographic, with $44 billion in purchasing power, is as likely to shop in brick-and-mortar stores as online, according to IRI's Robert Tomei.
Amid the adoption of faster technology to stay apace with consumers who use it, retailers need to organize their stores around solutions and need states instead of categories, urged Acosta's John Clevenger – echoing a rallying cry that you're going to hear more and more often in the pages of Progressive Grocer, most recently in our latest Category Management Handbook. 
Staying relevant and attentive to shopper needs will be key to consumer loyalty. Precima's Graeme McVie offered research indicating that 80 percent of shoppers consider themselves loyal to their grocery store, yet less than 20 percent actually do all of their shopping at one banner. It's up to grocers to listen to their shoppers and derive the best combination of enhanced loyalty programs, personalized marketing, customer-centric merchandising and shopper-driven supplier collaboration.
Retailers, forge a bond of trust with your trading partners and share the information you both need to achieve your common goals. "If you're not opening up and sharing," noted Advantage Group's Marc Hubbard, "you're falling behind every day."
Follow our live event coverage on Twitter at @pgrocer and @jimdudlicek.